Glastonbury preview: Dizzee Rascal, Emily Eavis and Alt-J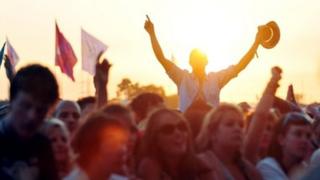 Music, mud and mayhem: The Glastonbury Festival is back after a fallow year in 2012.
This year's headliners include Arctic Monkeys and The Rolling Stones, who join more than 2,000 other performers at the sprawling, five-day event.
In part one of a two-day preview, we speak to some of the artists, musicians and broadcasters who are taking part.
THE CROWD PLEASER - Dizzee Rascal
Dizzee Rascal has become something of a Glastonbury institution, and 2013 marks his third appearance on the Pyramid Stage. His high-octane hits - including Bonkers, Fix Up Look Sharp and current single Goin' Crazy - will set the crowd up for headliners Arctic Monkeys.
Do you ever get nerves before playing Glastonbury?
It's going to be like my fourth or fifth time now. The apprehension comes from playing new music. Especially because I haven't had an album out in four years. I've had a few singles here and there, but this is where I'll get to throw out a whole body of music.
Have you been road-testing the new material?
I've been on tour with Muse, so as far as the UK, I've been playing football stadiums and stuff like that. It's just going down so nicely, I'm proper happy about it. I've got no worries. It just works.
Tell us more about the new album. You have Robbie Williams on the single...
It's wicked, man! It's just cool to have him on there. We recorded it in LA - I went to his house and watched him doing it. The scenery outside of his house is the opening scene of ET. And they wrote Ghostbusters in the house he lives in!
We've also got will.i.am on the album, Tinie Tempah, Jessie J, Sean Kingston, Angel. The album is just banger after banger, man. I'm really happy about that.
Dizzee Rascal plays the Pyramid Stage at 2015 BST on Friday.
THE TV ANCHOR - Mark Radcliffe
Mark Radcliffe has been hosting TV coverage of the Glastonbury Festival since it was first broadcast on Channel 4 in 1994. He will be back on BBC Two this year, presenting highlights from the day's events.
How difficult is it to hold together a live programme from the festival?
It's an absolute doddle now... but when we started out it was chaos. We used to sit on a hay bale with a microphone. Half the time we weren't sure whether we were on telly or not. Now, by comparison, it's seamless.
The last thing you want is to make it all slick. Glastonbury is this wonderful, massive, out-of-control assault on the senses and the TV should be like that as well. It shouldn't be like Country File.
What happens when the big headliners pop into the BBC treehouse?
The thing about Glastonbury is everybody's guard is down a little bit. I remember that Stevie Wonder had a big entourage, as you might expect, but they were the loveliest, most normal people. It was like women from the WI. It felt like a family outing to the church fete. It was quite heart-warming.
I remember being at the side when Beyonce came in [in 2011]. Jo Whiley and Lauren Laverne were quite giddy with excitement about meeting her. And she could not have been more lovely and beautiful. I could see that is what a star looks like.
Do you camp on the site, or do you need to stay fresh for the TV cameras?
I'd like to quash any concept of there being a posh BBC hotel. I mean, there's some rooms in a pub - which is very nice - but this time, I am staying on site. I've got a little Yurt thing because I've got my wife and two kids with me. But I'd like the licence payer to know I paid for it myself. I also paid for their tickets. People think it's a big freebie but it's costing me quite a few quid.
THE MERCURY WINNERS - Alt-J
Indie rock quartet Alt-J picked up last year's Mercury Prize with their intricate, inventive album An Awesome Wave. Although they formed in 2007, this is their first appearance at Glastonbury. Keyboard player Gus Unger-Hamilton spilled the beans.
As this is your Glastonbury debut, what preparations are you making?
The tipi is booked; the wellies have been bought; the app has been downloaded. I haven't been to Glastonbury since 2009 so I'm trying my best to remember how it works and what to bring or leave behind.
What's the best Glasto rumour you've heard - or what's the one you'd like to start?
I've heard The xx are going to wear Hawaiian shirts, short shorts, jelly shoes and novelty sunglasses if the sun shines.
Are you sticking around to see any of the other acts?
We're staying all weekend. I'm particularly excited to watch Haim, Deap Vally, Stealing Sheep, Ms Mr and James Blake.
Alt-J play the Pyramid Stage at 1930 BST on Friday.
THE OPENING ACT - Rokia Traore
As revellers stagger, bleary-eyed from their tents on Saturday morning, they will be greeted by the soulful sounds of Malian musician Rokia Traore. She was booked as an act of solidarity with northern Mali, where Islamic militants effectively banned all music last year.
You're headlining Womad later this summer. Is it strange to be at the opposite end of the bill?
I am playing at 11 in the morning for the first time in my career! What I told people around me [was] to keep calm. It's simply a concert, like all the other concerts. There's going to be an audience, no matter how many of them there will be. If there's just one person, I will play for that person.
Will you have to work harder to wake people up?
All over my career, I used to face situations like that. What I do wasn't considered traditional enough for African music audiences, so in the beginning people would come to see just what I sounded like. They would be discussing me during the first few songs, then paying more attention, and I would finish the show with more people than when I started. So if I have to do the same thing again, that's not a problem.
What's the situation for musicians in Mali at the moment?
I was in Bamako two weeks ago, and we started approaching some musician refugees in the south. Some of them are living in a room, and their wife and children are somewhere else. It is not a very pleasant situation.
We take their phone number, copy their ID and provide them with some money for emergencies. It's a way for us to be ready to give this list of musicians to other organisations. When we are asked, we know who the real refugees are, because we are in contact with them.
Rokia Traore plays the Pyramid Stage at 1100 BST on Saturday.
THE FESTIVAL VETERANS - Noah and the Whale
Noah and the Whale brought whistling back to pop in 2008 with their debut single Five Years Time. They've been playing Glastonbury since, as bassist Matt "Urby" Owens explains.
What's the best Glastonbury rumour you've heard?
The first year we were there, Doug and I heard rumours of a 24-
hour bar behind the acoustic stage with killer gigs from all these incredible artists running all through the night. We heard it was warm, dry, with available leather sofas, beautiful girls, strong cocktails, and no queues to the toilets. What was exceptional was that this all turned out to be entirely true.
What have you got on your rider this year?
We'll opt for a few bottles of the ever reliable Stones Ginger Wine, America pale ales and possibly a tent so we've got somewhere to stay for the rest of the festival.
Who's the most famous person you've bumped into backstage?
Probably Bodger, the less celebrated half of the infamous '90s TV duo, Bodger and Badger.
Who are you planning to see after you've played?
The Rolling Stones, of course! After that, we'll have to see where the night takes us. I've heard rumours of this great 24-hour bar.....
Noah And The Whale play the Other Stage at 1630 BST on Saturday.
THE ORGANISER - Emily Eavis
In 1990, an 11-year-old Emily Eavis bought her first single: Beats International's Dub Be Good To Me. Nine years later, she started working alongside her father Michael (pictured above), curating Britain's biggest music festival.
What happened in the fallow year?
In the year off, people really have time to reflect and come back with all these massive plans. Some incredible building went on, some amazing creations. We spend a lot of time trying to shift crowds around so it's not too congested. It feels quite fresh this year.
Who's left on your dream list? There must be a post-it on the fridge.
Yeah, it's on a napkin actually. We would love to have Adele. And we'd also love to have Led Zeppelin. I mean Zeppelin have got to do it haven't they? It would be so good, wouldn't it?
When did you first approach The Rolling Stones?
I think there have been conversations for forever. Since the beginning probably.
As long as that?
Well, I think probably the last 20 years at least. A long time. The actual serious conversations have been taking place since the end of the last festival, really.
I think people have sort of envisioned this real struggle or fight or problems with money or whatever, which hasn't been at all the case. They have totally played, they're really up for it. They know what it is about and understand that everyone gets the same.
Emily Eavis was speaking to Matt Everitt on BBC 6 Music. You can hear the full interview here.
THE POET - Deanna Rodger
London poet Deanna Rodger won the UK SLAM! Championships at her first attempt in 2007, at the age of 18. Since then, she has performed at the 2012 Olympic Team Welcome Ceremonies, Buckingham Palace and 10 Downing Street.
Do people pay attention to poetry at a festival?
You should be prepared for hecklers and laughter and conversations. You bring a different energy and you have to improvise with the crowd, and really respond to what they want. That's what a festival's about, working together and creating a community for these four days.
Do you tailor the set to the event?
I don't try to pander to an audience, because you often over-compensate and it feels quite patronising. It's fun to shock an audience - to give them an experience of a 23-year-old growing up in urban London.
I might do my anti-BNP poem, which is all about where I'm from and the fact I'm completely British. It's political, but still quite fun because it talks about me watching EastEnders and loving fish and chips… which I do!
There's a poetry slam on Sunday night. Are you tempted to reclaim your crown?
To be honest, I'm not sure whether I'll be taking part, because I do want to see the festival. But knowing me, I'm quite competitive so if someone eggs me on enough, I'll be up there slamming.
Deanna Rodger plays the Poetry & Words stage at 1740 BST on Friday and 1350 BST on Saturday.
THE YOUNG UPSTARTS - The Strypes
Teenage quartet The Strypes hail from Ireland, and their lightning-quick blues riffs have won comparisons to the likes of Dr Feelgood and Jeff Beck. Named one of the top bands to watch by the NME, they play the John Peel stage on Saturday afternoon, says drummer Evan Walsh.
What can audiences expect from a Strypes show?
Rhythm and blues, played fast and furious. Loud rock and roll, lots of energy and no messing about.
Is this your first time at Glastonbury?
None of us have played at, or been to, Glastonbury. We're not worrying about it but it definitely feels like there's a big gig coming up. It's such a landmark festival and it's acquired this legendary status.
Are you pleased to be on the John Peel stage?
We're all fans, all aware of what he did. We really liked him as a person - we've listened to the old shows, and looked at old footage of him. He made a really big difference for bands over the years.
The Strypes play the John Peel stage at 1600 BST on Saturday.
THE INDIE DARLINGS - Daughter
Daughter's debut album has been described as "staggeringly beautiful", "heart-rending" and "infinitely bleak" by critics. Singled out as ones-to-watch by the BBC in 2011, the London trio return the favour by headlining the BBC Introducing stage this year. Singer Elena Tonra says she's "very excited".
Your lyrics - "we're setting fire to our insides for fun" - are pretty dark. How does that go down in the middle of the afternoon?
It's funny because you'd think it'd be a bit of a downer - but this weekend in Sweden, everyone was singing and clapping along. Obviously, it's not a massive party vibe but I think, maybe the way we play live, it's slightly more upfront than the recordings.
So no-one ever cries?
Sometimes people do cry, but that doesn't mean they're not enjoying themselves. I went to see Sigur Ros in Berlin last year and I cried from start to finish, but I had the best time. I'm a crier. It's ok.
As you're playing inside a tent, you won't be bothered if it rains.
I hadn't thought about that! If you're playing an outside stage and it's pelting down with rain, you must be quite worried. But on covered stages, you get people who are trying to take shelter and had never planned to listen to you.
You recently covered Daft Punk's Get Lucky for Radio 1's Live Lounge. Will that be part of your Glastonbury set?
We'll have to see. It came out a couple of times on the US tour, but we don't play it that often. If we were going to play it, the BBC Introducing stage would be the place to bring it out.
Daughter play the John Peel tent at 1700 BST and the BBC Introducing stage at 2025 BST on Saturday.
THE UP AND COMING GRIME ARTIST - Amplify Dot
Branded the "British Nicki Minaj" by the Guardian, Amplify Dot is 24-year-old Ashley Charles. With an invigorating mix of chunky beats and cheeky rhymes, she's been invited to appear at Glastonbury by hip-hop kingpin Charlie Sloth.
Do you get nerves before going on stage?
I'm happy to hold my hands up and say that I sometimes freak out. I've never been sick but I've felt almost like I'm going to be sick in my mouth.
How do you get over it?
What really helps me is that my DJ and my Hype Man are my best friends from my secondary school days. We have a little group hug, say a quick prayer, have a shot of brandy, and it all disappears.
You've secured the services of Busta Rhymes on your new single. Are there any other hip-hop luminaries you're hoping to collar at the festival?
It's got to be Nas. I've got to just sniff him out.
What's your musical chat-up line?
Oh no, I don't have one! Maybe I'd say: "Hey, do you want to look inside my CD case?" A bit of mystery and intrigue.
Amplify Dot plays with Charlie Sloth on the Sonic Stage from 1215 BST on Saturday.