Online and catch-up TV added to official ratings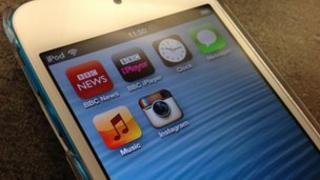 Catch-up TV viewed on services like the iPlayer are to be included in official TV rating figures for the first time.
Barb (Broadcasters' Audience Research Board), which compiles the figures, has announced it will track audiences through all computer devices including tablets, from the autumn.
Justin Sampson, chief executive at Barb, called it a "pivotal" move.
"This is a significant step forward in our ambition to deliver cross-platform measurement of content," he said.
At the moment Barb's ratings figures include recorded programmes that are watched within seven days of the original broadcast.
More than 5,100 representative homes across the UK have their viewing habits recorded automatically by special metering equipment installed in their TVs.
They monitor more than 30,000 viewing devices including PVRs, DVDRs and VCRs, as well as standard set-top boxes.
Each of the panel homes represents around 5,000 homes.
Barb says its new system has been made possible "by the commitment of the UK broadcasters to embed metadata tags into their programme content".
These tags can be read so it is possible to collate how many times programmes are downloaded or streamed.
Barb has already started tracking computer viewing in 700 panel homes.
It is conducting field tests of an app that will measure Barb panelists' viewing on tablets and smartphones.
These figures will go into the TV Player Report that it aims to launch by the end of the year.
Barb said that this will ensure "for the first time we will have a gold standard report into viewing to TV player services such as 4oD, BBC iPlayer, Demand 5, ITV Player and Sky Go".