Griffin Poetry Prize won by Palestinian Ghassan Zaqtan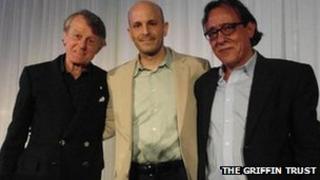 Palestinian poet Ghassan Zaqtan has won the International Griffin Poetry Prize for Like A Straw Bird It Follows Me, receiving C$65,000 (£41,000).
Described by judges as poetry which "reminds us why we live and how, in the midst of war, despair, global changes", the poems are translated from the Arabic by Fady Joudah.
The annual award recognises new poetry translated into, or written in, English.
What's the Score? by David W McFadden wins the Canadian prize.
The Griffin Poetry Prize is Canada's most generous poetry award. It was founded in 2000 by businessman and philanthropist Scott Griffin. The awards go to one Canadian writer and one international poet who writes in the English language.
The winners were announced at an award ceremony in Toronto, attended by some 400 guests including trustees Margaret Atwood and Michael Ondaatje.
Earlier this year, a panel of three international judges whittled down a longlist of 509 books of poetry, received from 40 countries, to a shortlist of seven volumes.
On Wednesday, the seven poets read excerpts from their books for 1,000 people gathered in Toronto's Koerner Hall. Each shortlisted poet was presented with a leather-bound edition of their book and C$10,000 (£6,300) for their participation.
Last month, Zaqtan, who is also founding director of the House of Poetry in Ramallah, was initially denied a visa to travel to Canada to attend the awards ceremony on the grounds that the reason for his visit was "unconvincing".
However, his translator, Houston-based doctor Joudah, took to Facebook to mobilise support for the poet. Novelist Atwood also took to Twitter, and within 72 hours the visa was granted.
"I think the visa thing is recognisably an unfortunate twist of events," said Joudah, on Thursday, speaking in the Toronto Star. "But it was solved and I think one's thoughts turn most importantly to the celebration of beauty and poetry."
The prize, he added "puts Palestinian poetry in a light that it should have been under and in for quite some time". "It's about time and I am happy for that."
Local man McFadden, whose volume of 99 "irreverent" poems was praised by judges for its "arch yet affable tone", cited his daughter, Jennifer, as the inspiration for his collection.
"I feel sorry for all the great poets that haven't had this experience," he added.