Jennifer Lopez lobbies for more diversity on TV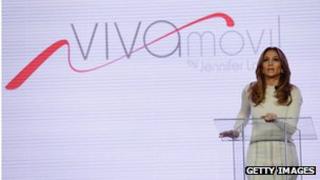 Jennifer Lopez has a new role lobbying for more diversity in TV programming.
The actress and singer was the star speaker at a communications convention in the US, where she spoke of a need for programmes that reflect "modern Latino" life.
Lopez met with senators after the convention to discuss diversity in television.
She said while there were more Latinos on TV "it's not a really a reflection of who the 'modern Latino' is".
The singer and actress become chief creative officer of English-language Latino channel NUVOtv, which she sees as a way to "empower and uplift the community".
As a child, she said, she did not see herself represented on TV and was inspired by the film West Side Story, as that was the only time she saw Puerto Ricans on TV.
Lopez said she will be "involved in the whole look and feel of the network" - from marketing to programme development and distribution.
"It represents something bigger than just television. It represents doing something for this community which has been so underserved for so long."
She said her ultimate goal would be for the channel to tell "quality stories and make great television" that not only draws in the Latino audience but anybody.
"There's a big revolution going on, it's like a media and cultural revolution of Latinos here in the United States," she said.
"We're realising our power. We're realising that we matter here. You know, we're not just, the guys working behind the scenes in the kitchens and as a plumber.
"We really have influence. We're really growing as a community and we've come into a place where we deserve to be considered and served and catered to."
Last month, Lopez announced she was opening a chain of 15 mobile phone stores in the US targeted at Latinos, with bilingual staff.