Will Smith film After Earth dazzles UK box office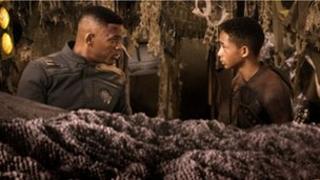 Will Smith's latest film After Earth has debuted at the top of the UK box office despite its poor reception in the US.
The sci-fi movie, also starring his son, Jaden, made £2.2m from 291 cinemas between Friday and Sunday.
The Hangover Part III earned £1.1m, falling one place to number two.
Shane Meadows' documentary about the return of The Stone Roses made an impressive £4,480 at each of its 82 locations to place at number nine.
Made of Stone charts the 2012 resurrection of the Manchester band with previously unseen archive footage.
Also on limited release, Steven Soderbegh's Liberace biopic, Behind The Candelabra, performed well to chart in eighth place.
Based on a book by Liberace's former lover Scott Thorson, the film starring Michael Douglas and Matt Damon made a total of £513,228 across 131 cinemas.
Elsewhere in the top five, Fast & Furious 6 slipped down one place to number three. It has now has now taken £23.3m since opening in the UK and Ireland four weeks ago.
Children's 3D animation Epic added another £665,446 to its tally, while Baz Lurhmann's adaptation of the classic novel, The Great Gatsby earned £658,225 to place fifth.
The current US number one film, The Purge, failed to hold the attention of UK cinema-goers, falling to seventh place.
The low-budget horror starring Ethan Hawke as a father defending his family against futuristic criminals, made £541,859 in its second week on release.
Other films in this week's top 10 included Star Trek: Into Darkness and The Iceman, which follows the notorious Mafia killer Richard Kuklinski.