Big Bang Theory scoops Critics' Choice TV Awards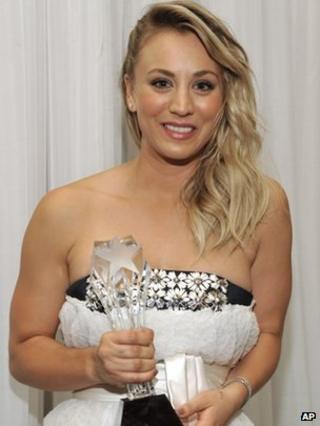 Hit US sitcom The Big Bang Theory took home the most prizes from the Critics' Choice TV Awards in Los Angeles, scooping three awards.
The show was named best comedy series, while its stars Simon Helberg and Kaley Cuoco were named best supporting actor and actress respectively.
There was a tie for best drama, with Game of Thrones and Breaking Bad sharing the award.
Bryan Cranston was named best actor in a drama for the latter series.
It was the second consecutive year he took the honour for playing teacher turned drug dealer Walter White.
British actors Damian Lewis, Andrew Lincoln and Matthew Rhys were also nominated for their roles in Homeland, The Walking Dead and The Americans respectively.
Tatiana Maslany was named best actress in a drama for her work in new BBC America show Orphan Black.
Claire Danes, Julianna Margulies and Elisabeth Moss were also shortlisted for Homeland, The Good Wife and Mad Men respectively.
Moss was successful in the best actress in a movie or mini-series category, however, winning for upcoming BBC drama Top of the Lake.
Michael Douglas won the equivalent best actor prize for his portrayal of Liberace in Behind the Candelabra, beating his co-star Matt Damon.
Al Pacino also missed out for his role in HBO's Phil Spector, as did Brits Benedict Cumberbatch for Parade's End, Toby Jones for The Girl and Dominic West for The Hour.
Steven Soderbergh's Liberace film also collected the honour for best movie or mini-series.
Louis CK was named best actor in a comedy series for his show Louie for the second consecutive year, while Julia Louis-Dreyfus was named best comedy actress for Veep.
Jane Fonda, meanwhile, picked up an award for best guest performer in a drama for her turn in Aaron Sorkin's The Newsroom.
Star Trek star Zachary Quinto and Sarah Paulson received best supporting actor awards for their parts in the mini-series American Horror Story: Asylum.
Archer was named best animated series, The Voice won best competition reality series, while Tom Bergeron took the award for best reality host for Dancing with the Stars.
House of Cards received two acting nominations at the awards - one for Kevin Spacey and another for co-star Corey Stoll.
Although neither won, the Netflix show's inclusion at an awards ceremony that previously only recognised network and cable television was significant.
The awards were handed out by the Broadcast Television Journalists Association. A full list of winners is on the Critics' Choice website.