AEG Live 'scared to death' by Michael Jackson treatments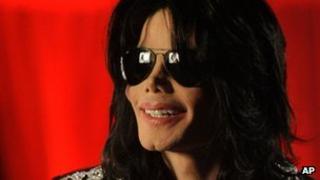 The chief of AEG Live expressed concerns over Michael Jackson's medical treatment ahead of his planned comeback shows in London, a US court has heard.
In an email to Jackson's manager, after receiving a $48,000 bill (£31,000) from his dermatologist, Randy Phillips wrote: "He scares us to death because he is shooting him up with something."
Dr Arnold Klein's lawyer has defended the doctor's treatment of Jackson.
Live event promoter AEG is being sued by Jackson's mother over his death.
Katherine Jackson claims the company failed to properly investigate her son's personal doctor, Conrad Murray, and missed warning signs about his failing health.
Murray was convicted of involuntary manslaughter after giving Jackson a lethal dose of the anaesthetic propofol in 2009.
AEG denies any wrongdoing.
Giving evidence, Mr Phillips said the email to Jackson's manager, Michael Kane, was sent after a meeting was held at the singer's house to address his health and missed rehearsals.
The bill from Dr Klein, he added, included numerous shots of cosmetic drugs such as Restalyne and Botox, as well as other unidentified intramuscular shots.
Witness admonished
Mr Phillips and other AEG Live executives have testified during the trial that it would have been inappropriate to ask about or intervene in Jackson's medical care.
He previously told the court in Los Angeles that he believed the $40 billion (£26 billion) legal action to be a "baseless extortion" attempt.
During his fourth day of giving evidence, the CEO was warned by the judge to answer questions posed by a lawyer for Katherine Jackson without arguing.
Jurors were sent out before Superior Court Judge Yvette Palazuelos admonished Mr Phillips, saying: "It's not going to help your case. It's not going to help anybody."
The warning came in response to an earlier exchange, when Ms Jackson's lawyer, Brian Panish, had asked Mr Phillips about characterisations of Murray that the executive had made in an email sent five days before the singer died.
Phillips acknowledged that some of his statements, including that AEG Live had "checked out Murray", had turned out not to be true.
When asked if that was the case, he replied: "Honestly, only to stop you from badgering me, yes."
The trial will enter its 25th day later and could last as long as four months.