British designer wins £10,000 book binding prize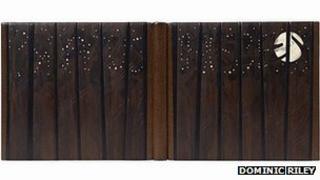 British designer Dominic Riley has won the top award of £10,000 at the second Sir Paul Getty Bodleian Bookbinding Prize 2013 ceremony.
Given the theme of William Shakespeare, Riley produced a binding made of brown and black goatskin which depicts the story of Pyramus and Thisbe.
His work has been donated to the Bodleian Library, University of Oxford.
Eduardo Gimenez took second place for This Solid Globe and will be exhibited with other winners until 10 August.
The prize was set up in 2009 to recognise craftsmanship and creativity in the contemporary art of bookbinding. This year is the second time it has been held.
Gimenez, from Spain, bound his choice of book in black calfskin with a prominent wooden O as a reference to The Globe Theatre building.
The second prize amounted to £6,000 and the binding will form part of the Getty Collection.
International competition
Competition entrants represented 31 countries. A special student prize was awarded to Yuri Nomura from Japan for a binding in green and black goatskin with lacquered areas shaped in Shakespeare's initials W and S.
There were 25 entries shortlisted as distinguished winners who received a silver Shakespeare nib, engraved with their name.
Stephen Conway, President of Designer Bookbinders, said: "The eclectic diversity of styles and influences demonstrated by the competition entries moves bookbinding in new and exciting directions."
After the exhibition in Oxford, the competition display will travel to another ten venues around the world including Estonia, Spain and Japan.