Blue Peter presenter search whittled to 10 hopefuls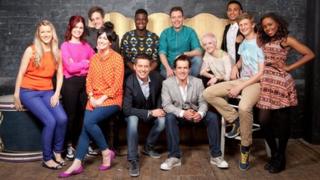 The search for a new Blue Peter presenter has been whittled down from 20,000 applicants to 10 finalists.
The shortlisted hopefuls will take part in Blue Peter - You Decide!, in which CBBC viewers will choose the 36th presenter of the world's longest-running children's TV programme.
The show's judging panel includes Myleene Klass, Eamonn Holmes and teenage actor Ceallach Spellman.
Viewers will be able to vote online on their favourite from 22 July.
Following a series of tasks, the judges will eliminate one applicant - who range in age from 19 to 28 years old - every week until three are left.
The shortlist of five men and five women includes psychology and cognitive neuroscience graduate Ben Hunte from London, who lists his passions as performing arts, travelling and food.
Farm raised Freddie Ingleby, a lover of animals and the outdoors, presented two radio shows at university.
South Wales native Ross Exton has his own YouTube channel where he creates educational videos teaching the online world all about his love of science.
Salford university student Isaac Jones is studying for a degree in TV and radio and spent the last year working with club promoters interviewing guest DJs.
Meanwhile, Loughborough-born Andy Shepherd has worked for online channel SBTV as a sports reporter.
The shortlisted female applicants include Middlesbrough-born primary school teacher Emma Bensley and former Brit School pupil and London Studios Centre graduate Kerry Boyne.
Somerset-born Hettie Colquhoun is a charity fundraiser and completed the Gold Duke of Edinburgh's Award; and Lindsey Russell is coming to the end of a four-year degree at the University of Bristol who also performed in an award-winning comedy show at The Edinburgh Fringe Festival.
Born in Edinburgh but now working in London behind the scenes on ITV's Daybreak, Shona Summers completes the list.