Bolshoi axes dancer Nikolai Tsiskaridze after acid row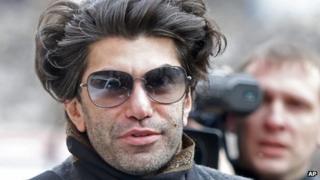 The Bolshoi has announced it will not renew the contract of veteran dancer Nikolai Tsiskaridze, who has been in open conflict with the theatre since an acid attack on its artistic director.
The dancer, who has been at the Bolshoi since 1992, is one of its top talents.
But the 39-year-old sparked conflict when he accused bosses of using the attack on Sergei Filin to conduct a witch hunt against him.
A spokeswoman said the dancer would leave at the end of the month.
"I can confirm that yesterday Tsiskaridze was given notice that his fixed-term contracts will not be renewed. His contract runs out June 30," Katerina Novikova told Rossiya 24 on Saturday.
She refused to give a reason for the decision.
In an NTV television interview on Sunday, Tsiskaridze questioned the theatre's right to let him go.
"To be honest, this is still not clear, because I'm on staff as a ballet artiste," he said.
"When I was taken on, I joined the staff. I didn't sign any paper to be released from this. It's all very confusing."
Earlier this year, the Bolshoi filed two reprimands against Tsiskaridze for giving unauthorised interviews after the attack on Filin in January.
Under Russian law, multiple reprimands can be grounds for dismissal.
Tsiskaridze appealed and a Moscow court annulled one of the reprimands.
In his outspoken interviews, he complained of corruption and called for the theatre's entire management to be sacked and for himself to be put in charge.
It led to a tit-for-tat response from Bolshoi director Anatoly Iksanov, who suggested Tsiskaridze might have played a role in inciting the attack on Filin, which left him with severe burns to his face and fighting to save his sight.
Tsiskaridze has denied having anything to do with the attack and insists the Bolshoi has been trying to drive him out.
Soloist Pavel Dmitrichenko and two alleged accomplices have been charged in connection with the attack and are in jail awaiting trial.
In March, Mr Dmitrichenko admitted to discussing the attack but denied ordering the use of acid.
They face up to 12 years in prison if convicted.