Mark Rylance takes acclaimed Globe plays to Broadway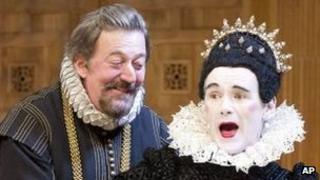 Two critically acclaimed productions by Shakespeare's Globe are transferring to New York in October.
Mark Rylance and Stephen Fry will lead the cast in all-male productions of Richard III and Twelfth Night, with Fry making his Broadway debut as Malvolio.
It marks the first time that productions from the London theatre will be performed on Broadway.
Directed by Tim Carroll, the double bill broke box office records in London's West End earlier this year.
Commenting on the original London production, which opened at the Globe last autumn ahead of its West End transfer, New York Times critic Ben Brantley hailed Rylance's work as "one of the most astonishing Shakespearean performances I've ever seen."
Rylance was nominated for an Olivier award for his performance as Olivia.
The double bill will run for 16 weeks at Broadway's Belasco Theatre, with previews beginning on 15 October, and an official opening night set for 10 November.
The stage will be lit almost exclusively by candlelight, with music played live by seven musicians on traditional Elizabethan instruments in a gallery above the stage.
"These productions show how laugh-out-loud funny, thrillingly theatrical and immediate Shakespeare plays can be," the producers commented, adding that 250 seats will be sold for $25 (£16) at each performance - including some seats on the stage and in the orchestra - in order to make the shows "accessible to all audiences".
Rylance, a former artistic director at the Globe, has won two Tony awards for his Broadway performances, including his debut turn in 2008's Boeing-Boeing, and his much lauded performance in the Royal Court production of Jerusalem, in 2011.
Twelfth Night, in which he plays the lovelorn Olivia, and Richard III mark the first opportunity for Broadway audiences to see Rylance performing Shakespeare, for which he has earned accolades, such as the UK's "greatest living actor".
He will be joined by Fry and History Boys star Samuel Barnett - who plays the cross-dressing Viola in Twelfth Night and Queen Elizabeth in Richard III.
Full casting for both plays will be announced in the coming weeks.