Tom Sharpe, Porterhouse Blue novelist, dies aged 85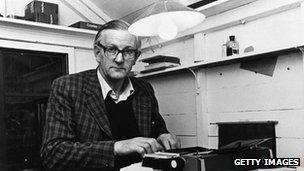 The British author Tom Sharpe, who wrote the 1974 novel Porterhouse Blue, has died aged 85.
Sharpe, who was born in London in 1928, died in the coastal town of Llafranc in north-eastern Spain on Thursday.
He wrote 16 novels, including Blott on the Landscape in 1975, which was adapted into a six-part BBC television series, starring David Suchet.
He also wrote the Wilt series of comedy books, the last of which - The Wilt Inheritance - he penned in 2010.
"Tom Sharpe was one of our greatest satirists and a brilliant writer: witty, often outrageous, always acutely funny about the absurdities of life," said Susan Sandon, Sharpe's editor at Random House.
"The private Tom was warm, supportive and wholly engaging."
Porterhouse Blue, published in 1974 told the story of Skullion, the head porter of a fictional Cambridge college Porterhouse.
The story, a satirical look at Cambridge life, was later made into a television series on Channel 4 in 1987.
The four-part TV series starred Sir David Jason in the lead role of the head porter, Skullion, alongside Ian Richardson as Sir Godber Evans and Barbara Jefford as his wife Lady Mary.
His wife, Nancy Looper Sharpe, said she would remember her late husband's sense of humour, his sense of morality and his love of travel.
She said Sharpe, who died from complications arising from diabetes, recently suffered a stroke.
"He lost the use of his legs and he could not accept that he couldn't walk. He was very physically strong but his breathing became weaker and weaker," she added.
The 76-year-old, who married Sharpe in 1969, said his ashes would be scattered in Llafranc, Cambridge, and a church in Thockrington, Northumberland, where his father and grandfather came from and where he spent summers as a child.
The son of a Unitarian minister who was a Nazi supporter in the 1930s, Sharpe was educated at Lancing and Cambridge.
He spent time in the Royal Marines, serving overseas on ships during the 1940s.
In an interview on Desert Island Discs in 1984, Sharpe told Roy Plomley he was initially influenced by his father's ideas.
He subsequently came to the realisation "that Hitler was not the man I was led to believe he was".
"My mind was blown by the horror of what had been happening."
Sharpe moved to South Africa in 1951, working as a social worker, teacher and photographer, and writing anti-apartheid plays during the 1950s. However, he was deported to Britain in 1961.
His experiences in South Africa inspired him to write his debut novel, Riotous Assembly, in three weeks in 1971, and his second novel, Indecent Exposure, in which he mocks the apartheid regime.
In 1975, he wrote Blott on the Landscape, centred on the proposed construction of a motorway in a fictional rural county in England.
The book was adapted into a six-part series by Malcolm Bradbury for the BBC in 1985.
"Books and films are totally different things," Sharpe said during his interview on Desert Island Discs.
"I say throw the book out the window and use the characters."
His next book, Wilt, published in 1976, was inspired by his experiences working a lecturer in History at the Cambridge College of Arts and Technology.
The first in a series of five comedic novels, Wilt was based around the lead character, Henry Wilt, a demoralised assistant lecturer who teaches literature to uninterested construction apprentices at a community college in the south of England.
"He has the same uncertainties about the world that I have, but he carries them on into the enactment of fantasy and he tends to run into trouble," Sharpe said.
The novel was adapted into the film Wilt in 1989, with Griff Rhys Jones and Mel Smith in the lead roles.
Sharpe, who had been living in northern Spain for two decades, was married with three children.
BBC News website readers have sent in their memories of Tom Sharpe:
I've read most of the Wilt books, as well as Blott on the Landscape and a few others. Amazingly funny books - several times I would laugh out loud, even when reading them in work at lunchtime! Sad passing of a comic literal genius.
Ian Robertson, Sonning Common, Berkshire
Terrifically funny books. Invoked uncontrollable bursts of laughter. Remember on more than one occasion when commuting to work on the train somebody bursting out involuntarily and then having to quickly regain their composure. Noticed what they were reading and knew just why, even if those all around didn't quite understand & thought them strange. But once you've read the addictive Tom Sharpe you feel part of that club and just want to laugh too!
Bob Steadman, Nailsea, Bristol
Discovered Riotous Assembly in the early 70s and fell in love with Tom Sharpe's writing. Since then, I have read and reread his books over and over again, never tiring. I will never forget seeing the tears of laughter rolling down my blind father's face as my rather straight-laced mother read Wilt to him (swear words and all). Wilt is a work of genius and Tom Sharpe probably the funniest writer in the English language!
Tom Sharpe was my English master for part of the time I spent at a prep school in Pietermaritzburg, South Africa between 1954/8. At the same time, he had a photographic studio in the town he refers to in Riotous Assembly as Piemburg. Sadly, there was a little problem over some photographs he kindly showed my fellow pupils and me. The ladies featured were not exactly fully clothed - far from it - and my friends and I were grateful to Tom for this extension to our syllabus. Unfortunately the headmaster (who himself only died a few weeks ago) came into the staff common room and was less impressed than we were. Tom had to bid us farewell and was subsequently deported from South Africa, something he always rather proud of! The headmaster's wife said to me at a dinner in London a few years ago that if he (her husband) hadn't sacked Tom, he'd have deprived the world of a gifted novelist.
Kevin Reynolds, Cambridge
He was my history lecturer for two years and inspired me to be come a teacher and a writer. He was so funny, kept us amused for hours with his stories about south Africa. When I first met him as a student at Cambs College of arts and technology, he interviewed me on a one-to-one, to go through the rules and said 'Most important rule, no smoking in the classroom,' as he was lighting up his pipe at the same time! A great character.
Related Internet Links
The BBC is not responsible for the content of external sites.