Trust upholds BBC Online clock complaint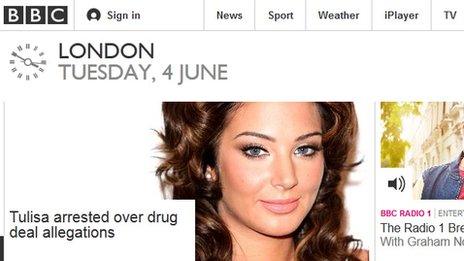 The BBC Trust has upheld a complaint that the clock on the BBC homepage was "inaccurate and misleading".
The complaint from a user of the site said that although readers assume the clock is correct, it merely reproduces the time on the user's computer.
The Trust said having a clock which does not state it derives its time from a user's computer is not consistent with BBC guidelines on accuracy.
A BBC spokeswoman said the clock would be removed "in an upcoming update".
"The BBC takes accuracy very seriously," the corporation said in a statement.
"Given the technical complexities of implementing an alternative central clock, and the fact that most users already have a clock on their computer screen, the BBC has taken the decision to remove the clock from the Homepage in an upcoming update."
The Trust said the BBC had not "knowingly" misled users.
The editorial standards committee said that in response to the complaint, the managing editor of BBC Online had said there were two reasons why the site did not offer an accurate, independently generated clock.
Firstly, the system required to do this "would dramatically slow down the loading of the BBC homepage", something which he said was "an issue of great importance to the site's users".
Secondly, if the site moved to a format in which users across the world accessed the same homepage, irrespective of whichever country they were in, it would be "impossible to offer a single zonally-accurate clock".
The BBC had asked its product management team to investigate the issue and it had reported back to the committee that it would take about 100 staffing days to make the changes involved in switching to an independent clock.
This could not be justified given the high level of perceived user satisfaction with the clock and an absence of complaints about it, the BBC said.
The committee concluded that the BBC management should, within a reasonable time frame, "remedy the situation", ensuring that the corporation complies with its requirement to "ensure due accuracy in all its output".
The Trustees accepted that it is for BBC management to take an operational decision on how to rectify the breach of the guidelines.