Matt Smith exit prompts Doctor Who speculation
By Neil Smith
Entertainment reporter, BBC News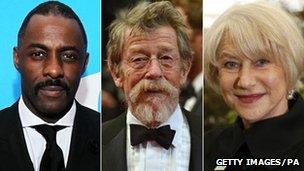 The news that Matt Smith is to leave his role in Doctor Who at the end of 2013 has already prompted speculation on the identity of his replacement.
A host of names have been suggested in Sunday's papers, among them Idris Elba, Dame Helen Mirren and John Hurt.
Hurt was introduced as 'The Doctor' at the end of the last series and returns in November's 50th anniversary episode.
"Somewhere out there... is someone who's about to become the Doctor," said executive producer Steven Moffat.
It has been suggested that the role may go to a black actor for the first time, with Homeland's David Harewood and former rapper Ashley Walters among those mentioned alongside Elba.
There have also been calls for the role to go to a woman, with Twenty Twelve and Broadchurch star Olivia Colman and Fiona O'Shaughnessy from Channel 4 drama Utopia among the candidates cited.
Older actors whose names have been linked to the role include 71-year-old David Warner, who was seen as a Russian scientist in a recent episode of the BBC One fantasy series.
In the Sunday Express, meanwhile, Sebastian Brook of fan site Doctor Who Online raises the intriguing prospect of Sean Pertwee following in the Whovian foosteps of his father Jon.
Bookmakers William Hill have made former Harry Potter star Rupert Grint and Russell Tovey from BBC Three's Being Human as their joint 10/1 favourites to named the next Doctor.
They are also offering odds on Sherlock star Martin Freeman, on Skyfall's Ben Whishaw and on former assistant Billie Piper returning to the series as the Doctor's new incarnation.
William Hill offer the same odds - 16/1 - on David Morrissey returning to the show following his appearance in its 2008 Christmas special as a man believing he is the Doctor.
Among their more outlandish suggestions are Hollywood star Tom Cruise, retired footballer David Beckham and Britain's Got Talent judge Simon Cowell, all of whom are ranked 250-1 outsiders.
Richard Ayoade from The IT Crowd, Eddie Redmayne from Les Miserables, Richard Madden from Game of Thrones and Slumdog Millionaire's Dev Patel are among other names cited in Sunday's newspapers.
Colin Morgan from BBC One's Merlin, Thor actor Tom Hiddleston, comedian Jack Whitehall and Freeman's Sherlock co-star Benedict Cumberbatch have also been mooted as potential Smith replacements.
"A life is going to change, and Doctor Who will be born all over again," said Moffat. "After 50 years, that's still so exciting."
Smith was named as the 11th Doctor in January 2009 and made his first appearance in the show as David Tennant's replacement on New Year's Day 2010.
Morrissey, Pertwee, Piper and Tovey were all mentioned as potential Doctors before the announcement that Smith had landed the role.
Related Internet Links
The BBC is not responsible for the content of external sites.