Grumpy Cat to appear in Hollywood film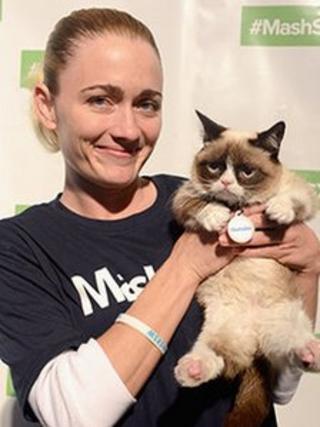 A cat whose grumpy facial expression made her an internet sensation has landed a role in a Hollywood film, her manager has confirmed.
The film will be made by Broken Road Productions, which was behind Adam Sandler's 2007 film Jack and Jill.
A photo showing Grumpy Cat's permanent scowl went viral last year after her owner's brother posted a photo on social news site Reddit.
The photo generated captions such as: "I had fun once... it was awful."
The cat's owner Tabatha Bundesen said her facial expression is caused by feline dwarfism.
Grumpy Cat, whose real name is Tarder Sauce, has already appeared on US TV programmes including Good Morning America and CNN's daytime talk show Anderson Live.
She joins the likes of Uggie the dog, from Oscar-winning film The Artist, and Buddy the basketball-playing Golden Retriever from Air Bud, who found fame after appearing in Hollywood films.