As I Lay Dying singer Tim Lambesis released on bail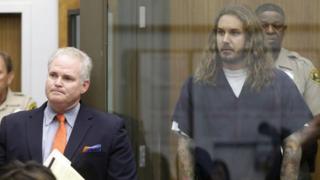 The singer of Grammy-nominated US metal band As I Lay Dying, who is accused of plotting to murder his estranged wife, has been released on $2m (£1.3m) bail.
Prosecutors allege that Tim Lambesis handed $1,000 (£650) to an undercover police officer posing as a hitman.
The 32-year-old singer was released from jail in San Diego on Thursday.
The judge said Mr Lambesis, who denies the charge, must stay away from his wife and children, wear a GPS monitor and observe strict travel restrictions.
Mr Lambesis' solicitor Thomas Warwick said the singer had been using steroids and that they had a devastating effect on his mind.
He faces up to nine years in jail if convicted. Last week, a judge reduced bail from $3m to $2m.
Mr Lambesis was arrested on 7 May at a shop in San Diego after a meeting an undercover agent. He was recorded saying he wanted his wife killed, according to prosecutor Claudia Grasso.
The undercover operation was staged after the singer told a man at his gym that he wanted his wife killed, Ms Glasso told a court hearing in Vista, California.
He had allegedly complained that she was making it difficult for him to see their children and to complete their divorce, the prosecutor added.
"He is substantially motivated to kill his wife,'' Ms Glasso said.
The singer's wife filed for divorce last September, according to San Diego Superior Court documents. The couple adopted three children from Ethiopia in recent years before separating.
As I Lay Dying, who formed in San Diego in 2000, have sold more than a million albums. Last year, the band - who take their name from a 1930 novel by William Faulkner - released their sixth album, Awakened.
In a message posted on the band's website earlier this month, Mr Lambesis' bandmates said they would call off a forthcoming tour.
"Given the circumstances, we feel that it is best for the band to be off the road while the current situation gets sorted," they said. "We'd like to thank all of our fans for their ongoing support at this difficult time."