How Sofia Coppola tackled the Bling Ring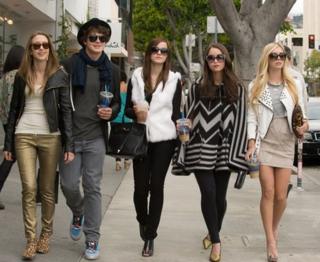 In The Bling Ring, Sofia Coppola tells the true story of a fame-obsessed gang who stole from Hollywood celebrities. But how did she avoid turning the teen burglars into celebrities themselves?
It was a curious case of life imitating art.
A few hours after Sofia Coppola's teen heist drama The Bling Ring had its red carpet premiere at the Cannes Film Festival in May, more than $1m (£650,000) worth of jewels was stolen from a hotel in the French resort.
The two events were unrelated, but the irony isn't lost on Coppola.
"It couldn't have been better promotional timing," she admits with a wry smile when we meet in London a few weeks later.
Coppola's latest film - her follow-up to 2010's Somewhere - is based on real events that took place in Los Angeles in 2008 and 2009.
A group of teenagers - fascinated by the Hollywood fashion brigade - used the internet to find out when celebrities were attending red carpet events and then broke into their homes to steal designer clothes, bags and shoes.
They even posted "selfies" of themselves in their ill-gotten gear on Facebook.
Their victims included Paris Hilton, Lindsay Lohan, Orlando Bloom, and Rachel Bilson. The gang members - dubbed the Bling Ring by the media - were eventually caught and convicted.
Coppola had heard of the case at the time, but it wasn't until she read an article in Vanity Fair entitled The Suspects Wore Louboutins that she thought of it as movie material.
She met the article's author, Nancy Jo Sales , who gave her access to the transcripts of the interviews with the young burglars.
"The more I read the material, the more it fascinated me," explains Coppola.
"I'd never done a true-crime-based movie. It had all the elements of a fun popcorn film, but it was also a reflection of our culture."
She assembled a cast of mainly of unknown actors, but included a star name in the form of Harry Potter actress Emma Watson - as gang member Nicki - as well as cameos by Kirsten Dunst and Paris Hilton as themselves.
Coppola tells much of the story from the point of view of the only boy in the gang, Mark, played by Israel Broussard.
"I tried to not be judgemental," she stresses. "I wanted to show what the experience could be like if you are really immersed in pop culture.
"I had to make that world seductive so you understand what they're drawn to. They are kids trying on these identities - they haven't figured it out."
Coppola met some of real-life members of the gang, but took the decision to change their names for her film.
"I didn't want to make those kids more famous," she says. "I didn't want to celebrate what they did. We are bringing attention to it, but I don't think they'll be made into cult heroes."
Alexis Neiers, on whom Watson's character is based, has already been the subject of a reality TV show, and there has been a Bling Ring TV movie.
Fake burglary
Coppola prepared her young cast by getting them to carry out a fake burglary on a friend's house in the Hollywood Hills.
"I told them to find a way in and what to take - so they did a practice robbery. I sent someone with a video camera. It was good improvisation - to see them fighting over who gets what."
But Coppola's real coup was to use Paris Hilton's home - scene of the real burglaries - as a location.
Cinema-goers will witness Hilton's face emblazoned on walls and cushions, as well as peek inside her walk-in shoe closet and her "nightclub room" complete with a dancing pole.
"I'd never seen anything like it - it's not like how everyone lives in LA," admits Coppola. "I don't think we could have built something as exciting as that - it gives those scenes some reality."
Given the Bling Ring's copious use of social media in both planning and boasting about their break-ins, what's Coppola's take on Facebook and Twitter?
"I'm not a big sharer," she confesses. "It's a very foreign to me that you'd want to share your personal life so much.
"Because I get a certain amount of attention for my work I feel like that part of me is satisfied."
The Bling Ring is released in the UK and the Republic of Ireland on 5 July.