Bollywood song list revealed on BBC Asian Network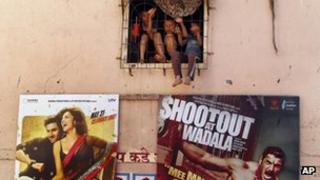 A song from 1966 Bollywood blockbuster movie Suraj (Sun) has been voted the best-loved track by BBC Asian Network listeners.
Baharon Phool Barsao (Sprinkle the Flowers) was chosen from a list of 100 Hindi movie songs released between 1940 and 2010.
The 100 tracks were shortlisted by a panel of experts including British Indian hip hop artist Hard Kaur.
The countdown was part of the station's celebrations of 100 years of Bollywood.
It was revealed in a special programme presented by Tommy Sandhu, following a whole day dedicated to counting down the best songs.
Other panel members included Asian Network presenters and Indian film critic and entertainment reporter Rajeev Masand.
"Bollywood is huge and massively popular for our listeners. Counting down the Top 100 Bollywood songs is a great way to celebrate all things Bollywood," said Neila Butt, Asian Network's editor of music and live events.
Music is an integral part of any Indian movie and gives it extra appeal. The songs in Bollywood movies are normally pre-recorded and then lip-synched by the actresses and actors.
The voice heard by the audience is usually the voice of a proficient playback singer. For many cinema-goers in India, it is a double pleasure watching a favourite actress and hearing a favourite singer simultaneously.
"Audiences flock to the cinema to watch a movie at times just because of one song they've heard. A big part of its success and appeal is the music - the songs and music are the soul of the movie." said Asian Network presenter Noreen Khan, who was also on the shortlisting panel.
Bollywood churns out hundreds of films every year and has a global reach. Popular Hindi film songs have been played repeatedly in clubs, parties and Indian weddings around the world.