Dad's Army star Bill Pertwee dies aged 86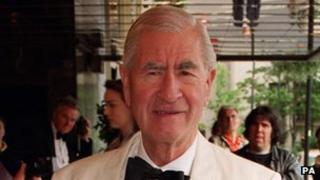 Bill Pertwee, who played Warden Hodges in Dad's Army, has died, his agent has confirmed.
The 86-year-old also starred as PC Wilson in You Rang M'Lord? He also appeared in three Carry On films.
Agent Meg Poole said he died peacefully on Monday with his family around him. He is survived by his son Jonathan.
His Dad's Army character was a greengrocer who became chief air raid warden when World War II broke out. His catchphrase was: "Put that light out!"
He was a thorn in the side of Captain Mainwaring and Sgt Wilson (played by Arthur Lowe and John Le Mesurier respectively), who called him "a common little man".
Pertwee, who was born in Amersham, Buckinghamshire, lived in a residential home in Wadebridge, Cornwall.
He was airlifted to The Royal Cornwall Hospital in Truro on Sunday where he died at 03:30 BST on Monday surrounded by family.
The actor first played the grumpy Dad's Army warden in 1968.
The show went on to earn a Bafta for best comedy in 1971 and inspired a film - also starring Pertwee - in the same year.
Pertwee was a founder member and the president of the Dad's Army Appreciation Society.
His son Jonathan said: "He would give everything a go. He was very dedicated to the people around him and he was very dedicated to his charity work.
"But also he was very humble about the whole thing, he was the subject of This is Your Life in 1999, and he'd always think how lucky he was," he added.
"He'd say 'marvellous, isn't it, to be in this business', because he said ' I'm not really a proper actor', but he was extraordinarily versatile."
Mr Pertwee said his father had a continued affection for Dad's Army.
"He loved it. He loved the people in it, it was a big part of his life and he used to have a lot of fun with Clive (Dunn) and John Le Mesurier and Frank Williams and all of them. They just had a a great bond."
His agent Ms Poole also paid tribute: "He was a really, really nice man. Very bright, very intelligent.
"He came from a big theatrical family, a big showbusiness family, and like all of them it was his life and it was very important to him and he was a hugely professional, very clever man."
His wife, actress Marion McLeod, died in 2005. They were married for 45 years.
Frank Williams, who played the vicar in Dad's Army, told the BBC: "He always used to play himself down as an actor... I think he was a very good actor... Bill was a lovely man.
"He was the life and soul of the party, great fun."
Pertwee was made an MBE in 2006 for his services to charity - he supported children's hospices.
In 1957, Pertwee wrote to BBC director and producer Richard Afton in search of his big TV break. In the letter, he mentions his cousin, the actor Jon Pertwee, who became one of the stars of the hit radio comedy The Navy Lark before taking on the title role in Doctor Who in 1970.
Bill Pertwee had only been an entertainer for a couple of years when he wrote the letter, having served his apprenticeship in variety halls across the country.
His break eventually came with the offer to join the hugely popular radio show Beyond Our Ken with Kenneth Horne and Kenneth Williams.
This led to him appearing in the radio series Round The Horne, again starring Williams and created by Barry Took and Marty Feldman.
He also appeared opposite Morecambe and Wise writer Eddie Braben - who died last week - in The Show with Ten Legs.
Pertwee's other credits included Carry on Loving, Carry on Girls and Carry On at Your Convenience.