Kristin Scott Thomas on the joy of being evil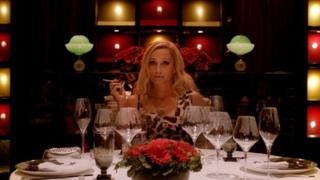 She has a reputation as one of the most upper-crust of British actresses, thanks to roles in The English Patient, Gosford Park and Four Weddings and a Funeral. But Kristin Scott Thomas is about to destroy those preconceptions with her latest role.
In Only God Forgives, made by Danish film-maker Nicolas Winding Refn, Scott Thomas plays foul-mouthed peroxide blonde American matriarch Crystal, who she describes "as a cross between Lady Macbeth and Donatella Versace." She adds: "I wanted her long blonde hair."
According to the director, the actress had to "turn on a bitch switch" to play Crystal, who runs a drugs empire and has a relationship riddled with Oedipus overtones with her son Julian, played by Ryan Gosling.
However, it is the film's extreme violence that has divided critics. When Only God Forgives premiered at the Cannes Film Festival last week, its grisly torture scenes prompted booing and walk outs.
Other critics loved it, with The Guardian describing the film as "a glitteringly strange, mesmeric and mad film set among American criminal expatriates in Bangkok".
Movie blog Indiewire, however, said of it: "As empty, soulless, frenziedly art-directed viewing experiences go, Only God Forgives is one of the better examples."
"I'm glad it's polarising," says Scott Thomas. "You want people to be shaken up, you don't want them to come out at the end of a film and say, 'Oh that was nice.'
"Either you want the audience to be angry or enamoured of it. At least it's getting a reaction."
One aspect of the film that critics agree upon, however, is the strength of the 53-year-old actress' performance, with The New York Observer describing it as "the saving grace" of the movie.
"She's a Shakespearian character," observes Scott Thomas of Crystal. "She is much larger than life, she is actually unimaginably bad, and that is what drew me to the project. She is just beastly.
"To be honest, when my agent first sent the script to me, I sent it right back to him with a bit of a shirty note telling him to control his emails because this was clearly not meant for me, but another client.
"Then he said, 'No, no, it really is meant for you,' and I was quite excited. It's nice to be asked to do something with the underworld and not in a country house or to sit weeping in my kitchen.
"I am asked to do a lot of the same things, particularly in English-language films, and this was just refreshing."
Scott Thomas, who lives in Paris and acts in both English and French, says she also wanted to work with 42-year-old Winding Refn, who has become one of Europe's most celebrated arthouse film-makers after winning best director at Cannes in 2011 for Drive. That movie was also another ultra-violent collaboration with Ryan Gosling.
"I just thought how interesting it would be to play this wild, savage person and work with Nicolas and Ryan," Scott Thomas continues. "I think he wanted me because I am his mother's favourite actress. I really need to ask her if I still am now that she's seen the film."
Winding Refn has described himself as having "a fetish for violence". According to the actress, "his favourite saying is, 'Taste is the enemy of creativity.'
"So you can go as far as you like, and together as a cast we just went further and further. We developed the script and scenes together during shooting. Some of the scenes were written in a classically evil way, but we just said, 'Oh why don't we just make it worse? Why don't we make it unthinkably bad?'
"So Nicolas just breaks down all these barriers, he deals with all these things that people don't want to think about. Certainly as far as their mothers are concerned."
Scott Thomas does, however, confess that she had a problem with the swearing in the script. "It took me eight takes to get some words out," she says.
"And also, in real life I am not a fan of violence at all. I can't actually watch. But I actually loved finding out how violence is made on screen and how it works. There was so much blood and gore, and at some stages, I have to be covered in it.
"You do it all with pumps. But if I found the mechanics of the whole thing exciting, you should have seen the men on set running round like 10-year-old boys.
"Everything about me in this film is over the top - from the nails to the hair to being so unimaginably vile as a person and a mother. It's been a wonderful experience."
Only God Forgives is released in the UK on 19 July.