Lesbian drama tipped for Cannes' Palme d'Or prize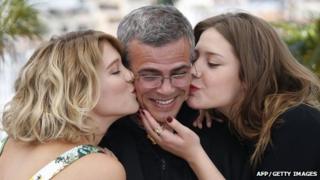 An intimate love story between two young women has received rave reviews in Cannes as the film festival draws to a close.
Directed by Tunisian-born French director Abdellatif Kechiche, Blue is the Warmest Colour, has shocked some critics with its graphic sex scenes.
Variety magazine said it contained "the most explosively graphic lesbian sex scenes in recent memory".
The film is the bookmakers' favourite to win the Palme d'Or on Sunday.
But reviewers have speculated the film may require editing to secure cinema distribution.
The three-hour character study centres on the 15-year-old Adele, played by French actress Adele Exarchopoulos, and her lover Emma, played by Lea Seydoux.
The Hollywood Reporter said the "sprawling drama" would "raise eyebrows" as it crossed the barrier "between performance and the real deal".
Kechiche, best known for his critically acclaimed 2007 film Couscous, said he would consider cutting some scenes to allow the widest possible audience to see the work.
"We wouldn't want the film not to be screened because of one scene," he said. "But of course that wouldn't apply if it were the whole thing."
Meanwhile, director Alexander Payne, best known for his Oscar-winning films The Descendants and Sideways, received a standing ovation at the premiere of his latest production Nebraska.
Cannes judges Nicole Kidman and Ang Lee joined Payne on the red carpet alongside stars of the road movie, Bruce Dern and Will Forte.
Dern portrays an ageing resident of the US state of Montana who is convinced he has won $1m (£663,000) in a sweepstake and is determined to travel to a prize headquarters in Nebraska to collect the winnings.
His son, played by Saturday Night Live comedian Forte, agrees to drive him, taking a side trip to the small Nebraska town where his father was born.
Critics have praised the film, which is also a late contender for the Palme d'Or.
In his four-star review, Robbie Collins in the Daily Telegraph described it as a "resounding return to form for Payne".
The Guardian called Dern's performance "terrific" in the "thoroughly sweet and charming movie".
Elsewhere, the stars at Cannes were at an exclusive hotel on the French Riviera for the 20th American Foundation for Aids Research (amfAR) gala.
Hosted by actress Sharon Stone, the event attracted stars including Leonardo DiCaprio, Jessica Chastain, Janet Jackson and Goldie Hawn and raised around $25m (£16.6m) for Aids research.
The Great Gatsby actor DiCaprio agreed to travel into space aboard the Virgin Galactic alongside a bidder who paid $1.5m (£1m) to join him on the journey.
The event, which also saw bids for Oscar tickets and a six-a-side football game against a team led by Zinedine Zidane, raised more than twice the amount collected last year.