Damian Lewis and Sienna Miller on TV awards shortlist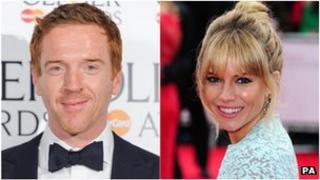 Damian Lewis and Sienna Miller are among the British stars nominated for the US Critics' Choice TV Awards.
Homeland's Lewis will vie with fellow Brits Andrew Lincoln of The Walking Dead and The Americans star Matthew Rhys for best actor in a drama series.
Sienna Miller and Imelda Staunton are shortlisted for their roles in Hitchcock drama The Girl, while Downton Abbey is nominated for best drama.
The awards will be handed out at a ceremony in Los Angeles on 10 June.
Lewis has already won an Emmy and a Golden Globe for his role as Sergeant Nicholas Brody in the thriller Homeland.
Aside from Lincoln and Rhys, he will also face competition for the best actor in a drama series award from Kevin Spacey for House of Cards, Breaking Bad's Bryan Cranston and Timothy Olyphant for Justified.
Other British nominees include Benedict Cumberbatch for Parade's End and Dominic West for The Hour - both in the running for best actor in a TV movie or mini-series.
They face competition from a trio of Hollywood heavyweights - Michael Douglas and Matt Damon for Behind The Candelabra and Al Pacino for Phil Spector. That shortlist is completed by The Girl's Toby Jones for his portrayal of Alfred Hitchcock.
Dominic West's The Hour co-star Romola Garai and Parade's End star Rebecca Hall are both nominated for best actress in a TV movie or mini-series, alongside such names as Sigourney Weaver, Jessica Lange, Angela Bassett and Elisabeth Moss, who is shortlisted for Top of the Lake.
Moss is also up for best actress in a drama for her role in Mad Men - the only nomination for that multiple Emmy-winning series.
Other British contenders include Dame Diana Rigg, for her guest slot in Game of Thrones, and presenters Cat Deeley and Gordon Ramsay, who are nominated for best reality host.
Overall, comedy The Big Bang Theory and American Horror Story: Asylum lead the field with six nominations each.
The Big Bang Theory will battle it out with Veep, Parks and Recreation, Louie, The Middle and New Girl for the title of best comedy series.
The contenders for best drama series are Downton Abbey, Breaking Bad, Homeland, Game of Thrones, The Good Wife and The Americans.
However, notable omissions on the shortlist included current cult favourite Girls and 30 Rock, which recently concluded after seven series.
The award-winning Modern Family received just one nomination for Sarah Hyland in the best supporting actress category.