Cannes: Robert Redford gets ovation for All Is Lost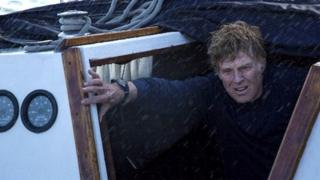 Robert Redford has received a standing ovation for his performance in All Is Lost at the film's Cannes premiere.
The Oscar-winning actor and director, who portrays a sailor lost at sea, is the only actor in the largely speech-free production.
It is the second movie from director JC Chandor, whose first feature Margin Call (2011) was nominated for an Oscar for best original screenplay.
The Independent described All Is Lost as "utterly compelling".
The Guardian called Redford a "tour de force".
"I believe in the value of silence in film,'' Redford told reporters about the movie, which features only a few lines of voiceover.
The film, showing out of competition at this year's film festival, has received rave reviews from a number of critics.
Variety called Redford "superb" in his "emotionally resonant one-man showcase".
Robbie Collin wrote in The Daily Telegraph that the "very nimbly executed" film was "very good indeed".
Chandor and Redford worked together for nearly three months in Mexico shooting the film about a man battling the elements.
"He was relentless in his vision, but also very respectful, and it encouraged me to give it more and more," the 76-year-old actor told a press conference.
Redford, who is known for his roles in All the President's Men and The Way We Were, is president of the Sundance Institute which supports independent film makers.
His forthcoming political thriller The Company You Keep, which he stars in alongside Transformers actor Shia LaBeouf, is released in the UK in June.
The release date for All Is Lost in the UK has not been confirmed.