Stephen Fry to curate Royal Opera House festival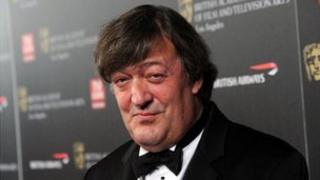 Stephen Fry is to curate this year's Deloitte Ignite festival at the Royal Opera House exploring the work of the Giuseppe Verdi and Richard Wagner.
Fry, a lifelong fan of Wagner's work, said he was "proud and pleased" to be part of "the opening up of opera to as wide an audience as possible".
The festival will celebrate the 200th anniversary of the composers' births with events across four weekends.
The actor Simon Callow will portray Wagner in a one-man show.
Inside Wagner's Head has been especially commissioned for the festival and will see Callow portray the controversial German composer in the style of his previous one-man shows based on the lives of Charles Dickens and William Shakespeare.
'Interactive' installation
Kasper Holten, director of the Royal Opera, said this year's festival provided an opportunity to celebrate "two giants of European cultural history".
"We are planning to do it in a lot of different and unexpected ways that hopefully will be interesting and entertaining both for long-time opera lovers and people who have never yet been to the opera," he said.
An installation by Es Devlin, designer of the London 2012 closing ceremony as well as several rock, pop and dance stage shows, will be displayed in Covent Garden piazza throughout September.
The "interactive" sculpture uses behind-the-scenes footage taken on 21 cameras of a performance of Wagner's Die Walkure at the Royal Opera House in 2012.
Other events include pop up performances in the Paul Hamlyn Hall by artists who have been inspired by Verdi and Wagner.
The hand mime artist Andrew Dawson will perform a potted version of Wagner's Ring Cycle , while a comedy dance duo, New Art Club, will present their own interpretation of Verdi operas.
A live broadcast of BBC Radio 3's Music Matters focusing on the music of Verdi and Wagner, will take place in the Clore Studio.
Now in its sixth year, Deloitte Ignite will run from 6-29 September 2013.