Henri Dutilleux, French composer, dies aged 97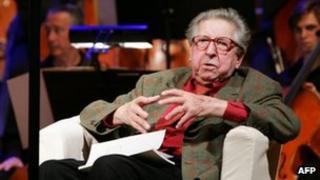 Henri Dutilleux, one of France's leading modern composers, has died in Paris aged 97, his family has confirmed.
Born in Angers in 1916, he was a prolific composer of predominantly instrumental works, including symphonies and orchestral pieces.
His latest work, Correspondances, was recorded for the first time in January this year to celebrate his birthday.
Radio 3's Tom Service said he composed music of "amazing sensual power".
"Dutilleux's exquisite catalogue of pieces is becoming, rightly, ever more popular with performers and listeners all over the world," he added.
Composer Laurent Petitgirard said his compatriot had been "one of the very rare contemporary composers" whose work entered the classical repertoire in his lifetime.
Dutilleux attended the Paris Conservatoire in the mid-1930s, studying under the composers Henri Paul Busser and Maurice Emmanuel.
In 1951 he received international acclaim with his Symphony No. 1, the first of his two symphonies.
Apart from symphonic works, he also composed chamber music, solo concertos and ballet music.
"If you hear any of his orchestral music - his symphonies, concertos, or his song-cycle Correspondances - you're immersed in an irresistible kaleidoscope of instrumental colour and, above all, a world of heightened feeling," said Service.