Man Booker International prize goes to Lydia Davis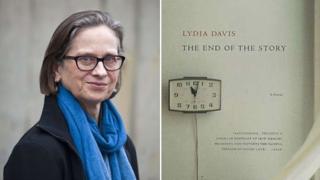 American writer Lydia Davis has been awarded the Man Booker International prize for her "achievement in fiction on the world stage".
She beat nine other nominees to take home the £60,000 biennial award.
Judge Prof Sir Christopher Ricks said Davis's stories "fling their lithe arms wide to embrace many a kind."
The award recognises an author's continued creativity, development and overall contribution to literature, rather than a single work.
"There is vigilance to her stories, and great imaginative attention," Sir Christopher added.
The British literary critic and scholar was joined on the judging panel by authors Elif Batuman, Aminatta Forna, Yiyun Li and Tim Parks.
Davis, the fifth recipient of the prize, is currently professor of creative writing at the University at Albany in New York state.
Her work includes one novel, The End of the Story (1995), and seven story collections, including Break It Down (1986), Almost No Memory (1997), Samuel Johnson is Indignant (2002) and Varieties of Disturbance (2007).
She has translated a number of French philosophy and literature works, most notably Swann's Way by Marcel Proust and Flaubert's Madame Bovary.
A new collection, Can't and Won't, is due to be published next summer in the UK.
The last recipient of the honour, 2011 winner Philip Roth, was also American.
The other winners are Albanian writer Ismail Kadare (2005), Nigerian novelist Chinua Achebe (2007) and Canadian short story writer Alice Munro (2009).