Richard Thorp, long-serving Emmerdale cast member, dies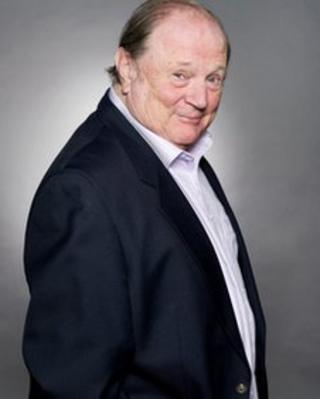 Actor Richard Thorp, Alan Turner on Emmerdale for more than 30 years, has died at the age of 81.
He had been the longest-serving cast member on the ITV soap, having made his first appearance on 23 March 1982.
Thorp also starred as squadron leader Henry Maudslay in iconic 1955 film The Dam Busters.
In a statement, the show remembered him as a "true professional and a complete gentleman" who would be "greatly missed".
"Richard's death is a sad loss to Emmerdale, of which he was at the heart for so many wonderful years," said Kate Oates, Emmerdale's series producer.
"He will be missed by every single member of our production whose lives he touched."
Thorp's character started out in the show as the hard-drinking, womanising and bullying manager of Home Farm.
But he mellowed over the years, going on to be landlord of the Woolpack pub and open a B&B.
Thorp's breakthrough role in The Dam Busters came at the age of 23. The actor had auditioned for a smaller role but was given the part of Maudslay because he looked like him.
He went on to appear in The Barretts of Wimpole Street and There's Always a Thursday before joining hit TV series Emergency Ward 10.
Before joining Emmerdale, Thorp appeared in a number of TV shows including Crossroads and To the Manor Born.
The actor told the Daily Mail in 2010 he was "too lazy" to pursue a career in Hollywood and admitted he liked the security of regular soap income.
The same year, he told the Radio Times that he "ought to have regrets about staying" at Emmerdale for so long but did not.
"There was no point in me moving on because I wasn't good enough," he said.
Past and present cast members have been paying tribute.
Chris Bisson, who plays Jai Sharma on the soap, said he was sorry to hear the news and that Thorp "was always a gentleman".
Adele Silva, who played Kelly Windsor on the soap, said he was a "lovely man and [the] coolest guy I've seen with a Harley!"
Danny Miller, who played Aaron Livesy, said it was "devastating news". "A legend and a true gentlemen, he will be missed dearly!" he wrote.