The Machine: Stage set for Kasparov v Deep Blue chess thriller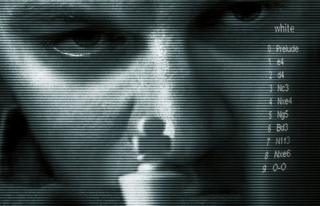 The ground-breaking chess battle between Garry Kasparov and computer Deep Blue in 1997 was a pivotal moment in the relationship between man and technology. Matt Charman's new play The Machine explores the human drama at its centre.
"I didn't want to write a play that was just about chess," admits Matt Charman in his gambit. "In fact, the chess is almost the least important part of the play."
Charman's The Machine, which has its world premiere at Manchester International Festival in July, focuses on the two human geniuses behind one of the world's most controversial chess matches.
On one side was Russian world champion Garry Kasparov. On the other, IBM's Deep Blue super-computer, whose chief architect was Taiwan-born Feng-Hsiung Hsu.
Deep Blue beat Kasparov over a series of six games in New York in 1997. It was hailed as a milestone in the history of computer science.
Playwright Charman saw a story rich with dramatic potential. "You've got these two guys coming into America wanting what it's got to offer and, I think, both being seduced and ruined by it."
The show will be staged like "a big sports event" in the grand surroundings of Manchester's Campfield Market Hall before it moves to New York's massive Park Avenue Armory in September.
The play's director, Josie Rourke, admits she's fascinated by technology and artificial intelligence.
"What you can say without spoiling the play is that the computer in the second game in that tournament made a human move.
"It did something that one would not expect a computer to do and Kasparov believes to this day that it was cheating. Whether it was or wasn't we will never know because IBM broke the computer apart and sent it to different parts of the US when the match was over."
For Rourke, artistic director at London's Donmar Warehouse, the story foreshadows what it is like to live now.
"The mission of Google is to know what you want before you want it - to be able to process your data enough so that it can anticipate your needs. It's about who we are and how the world is changing."
As Charman points out: "A piece of software beat the best and the brightest. What does that actually mean? We're suddenly not the smartest thing on the planet."
The playwright is tight-lipped on how Deep Blue itself will appear in the play, but is clearly in awe of the original design.
"Deep Blue could have just been a bunch of chipboards and wires but they made it look fantastic. It looked scary and exciting - like something out of 2001, a big, black, supercool hard drive."
But how did Charman face the challenge of dramatising something as static as a chess game?
"Garry is brilliant to watch as a chess player," he responds. "If he's upset or angry he shows it. He doubles himself over, he beats himself up, his leg twitches - it's a massive performance.
"In terms of making chess dramatic, I saw it as a boxing match - that's what this was. It was two guys stepping into a ring, one of them clearly a favourite who finds out that the other guy can take him on and it's going to be a fight to the death."
Matt Charman's first play, A Night at the Dogs, premiered at the Soho Theatre in 2005. His other works include The Observer, The Five Wives of Maurice Pinder and Greenland (all at the National Theatre).
As rehearsals get under way for The Machine next week, Charman is already focused on his endgame.
"My real desire is that people will leave and go, 'Wow - chess is quite sexy!'"
The Machine runs at the Manchester International Festival from 10 to 21 July and at the Park Avenue Armory, New York, from 4 to 18 September.