Cannes 2013: Debut directors hope to strike gold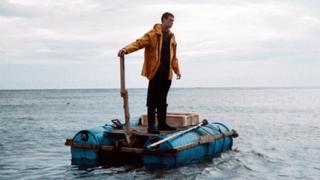 There may be no British films in the main competition for the Palme d'Or at this year's Cannes Film Festival, but a number of young UK film-makers have travelled to the French Riviera in the hope of getting their productions seen by the world.
Away from the glamour of the red carpet, the Cannes Film Festival hosts a thriving movie market where producers have money to spend and film-makers seek funding to finish their films or get them distributed.
"It's my first feature film so I think it's the perfect platform," says Scottish director Paul Wright, whose movie For Those In Peril has gained glowing reviews as part of the Critics' Week.
"It gives it a better chance of getting it out there so people can see it, so we couldn't ask for more as a starting place for the film."
Wright is one of dozens of film-makers whose work is vying for attention at this year's Cannes.
Last year, more than 4,000 films were shown during the festival, both in and out of competition and at the adjoining market.
Films are screened from early morning until late at night in the main Palais building as well as at screens dotted throughout the resort.
Such competition, however, means it is tough to tempt potential distributors to come to see your film.
"There are other people that know far more about that than I do," admits Wright. "Although it's a very Scottish film, it does have themes in it that hopefully do translate around the world."
The film, about the young survivor of a boating accident that leaves his brother and several local men dead, deals with bereavement and loss.
Brought up on local folk fables about sea monsters that eat people, the disturbed youngster believes this was the fate of his brother.
"It's quite a simple story that hopefully a lot of people can relate to," says Wright, whose short film Until the River Runs Red won a Bafta in 2011.
"We always wanted to make a film that could travel. I grew up in the East Neuk of Fife and was brought up with stories of the ocean.
"At a similar time, not to overplay it, but I lost my father when I was quite young. I think I was of the age where I knew what was going on but I couldn't totally accept the finality of death.
"So that was a theme that we pushed in the film, this idea that the character didn't accept that it was the end for his brother."
Critics' Week was founded in 1962, making it one of the oldest strands of the festival. It showcases the first and second films by up-and-coming directors.
Another strand at Cannes is the Cinefondation Prize, awarded each year to a standout student project.
The Magnificent Lion Boy is the graduation film of National Film and Television students James Cotton and Ana Caro.
Painstakingly animated with charcoal drawings, its young makers managed to persuade Downton Abbey star Hugh Bonneville and Lord of The Rings actor Andy Serkis to voice characters in the short film.
Producer Cotton says: "This is my second time in Cannes. Last time, my experience was very different, shadowing a sale agent.
"This is the first experience where I can decide what to do with my time, so I have approached a few companies for meetings."
Cotton's "in" with Serkis came when he was employed as a driver on the film Sex And Drugs and Rock And Roll, in which Serkis played the late singer Ian Dury.
Cotton says he is using his time in Cannes to "view the landscape and absorb as much information as possible - and balance that with having a good time and seeing a few films".
Every year, the Cinefondation selects 15 to 20 shorts and medium-length films from film schools from all over the world. More than 1,000 are submitted.
The strand gives weight to the festival's aims to foster the next generation of film-makers as well as celebrating the work of established auteurs.
"It's fantastic in that respect," agrees Cotton. "Looking at the Cannes literature and the timetables, it's not like we're shoved in at the side, we're on the fold-out guide.
"So in that respect, we get as much exposure as some of the big films."
Documentary is one of the festival's fastest-growing areas. Films can be viewed daily on the market floor in what has become known as "Doc Corner".
The films on show in Doc Corner may not make it to any of Cannes' big screens, but for young documentary makers, it is just as important.
Fresh from winning an award at the London Independent Film Festival, community worker-turned-documentarian Yannick Oho Bambe is showing his work, which looks at the London riots of the summer of 2011.
In When Tottenham Exploded, Oho Bambe, who works in the area, talks to teachers and locals, giving voice to the people most affected by the riots.
"As I watched it unfold, I felt like it was a historic event, so I had this desire to show a different story," Oho Bambe explains.
"I watched the media portray young people, especially from the community in Tottenham, as the people causing the events. I wanted to show that we could be part of the solution as well."
The film is not a straight documentary, but mixes dance and poetry, written by the film-maker, to express his own thoughts about the events.
He says he did not expect to be at the festival less than a year after making the documentary.
"A friend of mine asked me the same question, 'How did you end up in Cannes?' And I said it had never been the plan to end up here. Now it's amazing how doors are being opened."
As for getting the film seen abroad, Oho Bambe says: "I've been meeting with TV5, a French channel, which covers the whole world. That's the aim, to get it distributed."
He adds: "My dream is get to meet directors and get to do some more work. What the documentary shows is that I might be a good storyteller.
"So in terms of personal hopes, I would hope to work with the greatest."