What next for the UK in Eurovision?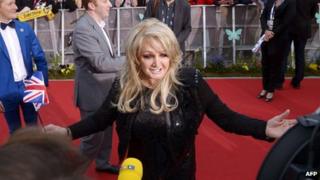 The annual Eurovision Song Contest has taken place in Malmo, Sweden, and the UK has once again failed to get anywhere near the top of the leaderboard.
Bonnie Tyler's entry Believe In Me came 19th out of 26 countries. The power balladeer gained 23 points - way behind the winner, Denmark's Emmelie de Forest, who amassed 281 points.
So what should the UK do next year - and should the UK even bother entering?
Here is a round-up of the views of Eurovision pundits.
Johnny Logan, Ireland's three-time Eurovision winner
I think Bonnie's great. I don't think the song was strong enough.
If you had the right song, if you had a Total Eclipse of the Heart, Bonnie's the right girl for it. But I never felt the song was strong enough.
If you're going to win Eurovision, to go through some of the incredible voting I've noticed over the last few years, you have to have something that's going to stand out above everything else. Otherwise you're just going to hope to pick up 10 or 11 votes.
Over the years, Eurovision has been slated so much in England and Ireland that the best writers don't take part in it any more. That's the reality.
England has a history of some of the best music and writers in the world, from the Beatles up to today. The writers are still there - just look at Adele. There's no problem. But nobody wants to get involved because you're on a hiding to nothing.
Johnny Logan was speaking to BBC 5 live.
Nathan Moore - Brother Beyond singer and manager of 2004 UK entry James Fox
I didn't feel it was quite as political in the voting this time around.
But it was the same old story - I didn't feel that the song was good enough. It was a great idea to get Bonnie involved, there's a lot of love for Bonnie out there. But the song was in a very low register and it just sounded a bit dreary.
I think really good songwriters avoid this show, unfortunately. It exists in its own little world, and it's a great little world to dive into for one night's TV. But our quality songwriters just won't offer their songs.
Going down down the road of Bonnie or [2012 entrant] Engelbert Humperdinck or [2011 entrants] Blue is a good way to go. But you've got to get them a better song. You've got to persuade really, really good current songwriters.
What has this [Bonnie Tyler's song] got to do with our current number one single at the moment, Daft Punk? That's what the single buyers are buying. We need vibrant songwriters to say, 'Here's a great tune.'
Nathan Moore was speaking to BBC Breakfast.
Dave Goodman, journalist and Eurovision fan
Bonnie did all right but she didn't look confident and she didn't have a great position in the running order.
She did better than last year, so we've got to congratulate ourselves.
Why would you walk away from the world's greatest TV event? You don't walk away from the football World Cup because you don't do well. Being there is good enough. We don't have to win this.
Why do we complain every year that we do badly? We [in the UK] don't buy Bonnie Tyler's song. Is she in the charts at the moment in the UK? Why do we expect the rest of Europe, automatically, because we produce great amounts of music the rest of the year, to suddenly vote for our song on that night?
There were a load of great songs in that Eurovision top 10. Songs will win out, and the UK will do well if we send something that we want to listen to.
Dave Goodman was speaking to BBC 5 live.
Neil McCormick, Daily Telegraph
Bonnie Tyler continued Britain's dismal record, coming 19th, only marginally improving on Engelbert Humperdinck's 2012 humiliation.
She may be 61, and her song may be a by-the-numbers power ballad written by a team of American hacks, but she has that cheese-grater soul voice that can make even the most throwaway lyric sound like a matter of life and death.
She came, she sang, and she rose up on a platform with wind blowing through her hair, smiling like a superstar who was convinced no-one would dare give her nul points. It made little difference to established voting patterns. Maybe next year we should send a pop singer not as close to retirement age. Or tanks.
Read Neil McCormick's full review.
Katrina Leskanich of Katrina and the Waves, 1997 winners for the UK
I was underwhelmed by Denmark. I never really got it. It was too derivative, not very exciting for me.
I thought Bonnie was going to do really well. We should probably have an X Factor-style selection process where the people get to make a decision.
If somebody like Simon Cowell got involved, I think it might help things as well.
Katrina was speaking to BBC Radio 2.
Alex Hardy, The Times
As the contest's host said during another hit-and-miss montage, in Eurovision "the most important thing of course is participating - and to go out with a bang".
Well, one out of two is not bad. We came, we participated, and with a bang-free entry we got a bang-free result.
In terms of hopes of victory, we've long been no-hopers. Bonnie signed off her song with a polite 'thanks"; Greece with a rowdy "Yamas". They came sixth.
Next time, let's do this thing with far more "bottoms up". Perhaps literally. May as well be hanged for a sheep as for a lamb...
Read Alex Hardy's full review (subscription required).