Eurovision Song Contest: A fan's perspective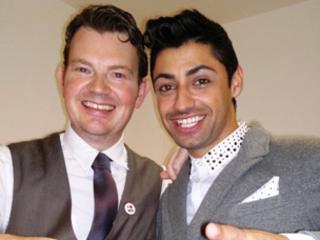 The Eurovision Song Contest has thousands of dedicated fans that travel from around the world to see the show every year.
Their passion is no different to that of a football fanatic who buys a season ticket, or a music fan following their idol on tour, however there is a certain stigma attached to being a Eurovision fan.
Paul Marks-Jones is the president of the UK branch of the Organisation Generale des Amateurs de l'Eurovision (OGAE) - the largest Eurovision fan club.
The 39-year old from Manchester, who does not get paid for his role, talks about his love of the contest and how Eurovision has become part of his life.
Why do you love Eurovision?
I think this comes from my interest in languages and different cultures. When I was growing up there were only the odd non-English songs on the radio so when I saw all these different languages being sung once a year I was fascinated.
How did you get involved with OGAE and become its president?
I found out about the club through Smash Hits one gloomy day in 1989 and have been a member ever since.
I went to my first OGAE convention in 2003 and from then on I organised the event. Someone remarked that I should be the president and it snowballed from there. Elections for the club were due, so I stood for president and was elected in 2009 and re-elected this year.
What's your day job and how do you fit your role at OGAE around it?
I have two jobs - I work at the University of Manchester as an equality and diversity officer and I have my own event planning business - so I have to fit in in everything around that.
There are very busy times of the year, usually between August and May, because we organise our annual gathering with more than 150 members in October. Some countries Eurovision selections start in December too - well before the UK even thinks about its entry.
How much would you say you have spent on following Eurovision?
I have no idea! It's just like any hobby really - you don't add up the cost - you just spend the money and enjoy it.
What do your friends think of your passion?
My friends love it! They have always been involved in my annual party since 1991 and just find it amazing that I go to the contest, meet the acts and hold some very successful events in Manchester.
I have also made some amazing friends through following the contest, so every time we get to go to a Eurovision event it's one massive reunion.
Why do you think there's a stigma attached to being a Eurovision fan?
I think you could attach stigmas to all kinds of hobbies. People might think you're a thug or hooligan if you like football for example.
It's only from people who don't understand or appreciate the subject in question - so whilst some people might create impressions and stereotypes of Eurovision fans, that is up to them.
Myself and many other people enjoy so many different aspects of the contest, its history and performers and so that is what is important!
What do you think of this year's contest and who are your favourites?
There's a lot of variety this year and I think it will be remembered and enjoyed as a classic year.
My favourite, Cyprus, lost out in the first semi-final, but I still have the Netherlands and Norway to support. They're both classy and contemporary songs.
What do you think of the UK's entry?
Bonnie seems to entering into the whole spirit of Eurovision - let's see if that continues after Saturday! As for the song, it's not really my cup of tea.