Baha Mousa book and Marie Colvin honoured by Orwell Prize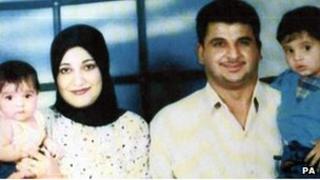 The £3,000 Orwell Book Prize for political writing has been won by AT Williams for his book A Very British Killing: The Death of Baha Mousa.
Marie Colvin was honoured with a posthumous special award for her book On the Front Line, published after her death last year.
The Orwell prize for journalism was split between two people due to the "outstanding standard of entries".
Tom Bergin from Reuters won for his work on corporations avoiding tax.
Andrew Norfolk from The Times shared the prize for his investigation into the sexual abuse of girls at care homes in Rochdale and beyond.
The judges said the entries showed that "contrary to what is sometimes alleged, first-class journalism is alive and well in the UK", calling both winners "investigative journalism at its best, with an impact on the real world".
The Orwell prize is awarded annually to the works that comes closest to George Orwell's ambition "to make political writing into an art".
The judging panel, which included Baroness Joan Bakewell, noted of AT Williams book: "Ultimately, the greatest achievement of this incendiary, eloquent and angry book is that it humanises Mousa beyond the iconic and infamous figure he has become in his death. It was written in the spirit of Orwell's journalism."
Baha Mousa died in 2003 while in British custody in Iraq. An inquiry found he had suffered an "appalling episode of serious gratuitous violence" by UK soldiers.