Regional arts suffer donation drop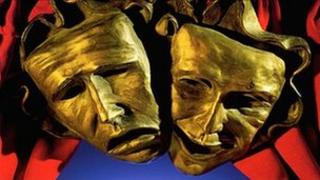 There is a growing divide in donations to the arts between London and the rest of England, according to new figures.
Philanthropic giving to theatres, galleries and other arts and heritage organisations rose 10% in London between 2011 and 2012.
But donations elsewhere fell 3.5%, said Arts & Business, a charity that seeks to connect arts bodies with donors.
Arts & Business director Philip Spedding warned of an "almost perfect storm" for regional venues.
Total private donations and sponsorship for the arts in England rose 7.6% to £660m in 2012, which Mr Spedding described as "an astonishingly healthy figure in this day and age".
Organisations in London saw their total rise from £488m to £539m. But outside London, donations dropped from £125m to £121m.
"The biggest issue we see across the country is local councils cutting their cultural support," Mr Spedding said.
'Worrying time'
"There is a danger of an almost perfect storm of public sector cuts, private sector money not being there to make a financial difference, and of course challenges in generating income from the public.
"So it is a worrying time for arts organisations outside London. Those that will get through are those that will think imaginatively and creatively."
Overall business sponsorship for the arts rose for the first time in eight years, by £200,000 to £113.8m, according to Arts & Business, which carried out the research.
Individual giving across England was up by £22.9m to £372.9m - 90% of which now goes to venues in London.
Income from charitable trusts and foundations rose by £23.7m to £173.8m.
"The concern there is that they're spending more than they're generating in income from their endowments, so there is a possibility that that is not going to be sustainable going forward," said Mr Spedding.
The government has encouraged arts bodies to drum up philanthropy as public funds are cut and has designated 2011 as the "year of corporate giving".
A spokesman for the Department for Culture, Media and Sport (DCMS) said the overall 7.6% rise was welcome news "in the current economic context".
"Successful arts organisations in the future will get backing from many different sources, and this funding diversity will help ensure the sector thrives, not just survives, during difficult times," a statement said.
"We know that the challenge for cultural bodies cultivating donors is different outside London. But it's not impossible," the statement continued, pointing to the Arts Council England's Catalyst scheme to stimulate philanthropy across the country.