Six-hour opera wins music and theatre award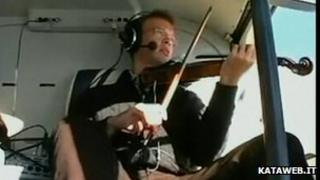 A six-hour long opera streamed live from four flying helicopters has been honoured at the Royal Philharmonic Society (RPS) music awards.
Birmingham Opera Company's Mittwoch aus Licht picked up the opera award for music and theatre.
Judges said the performance in a former chemical plant was "bold in imagination and brilliant in accomplishment".
It was one of three London 2012 festival events honoured at the ceremony.
A series of 20 commissions celebrating new music in the UK won the concert, series and festivals award.
New Music 20x12, in collaboration with London's Southbank Centre, BBC Radio 3 and NMC Recordings, featured a series of events which took place around the UK.
Judges said the project was a "fitting legacy to an extraordinary year."
RPS chairman John Gilhooly described the "outstanding year" enjoyed by classical music despite difficult economic conditions.
'Highest recognition'
"Making money never has, and never should be, the driving force for great art. The Philharmonic Society sent Beethoven £100 on his deathbed to ease his penury, and commissioned Beethoven's Ninth Symphony, not because they expected or even hoped for a blockbuster success, but because they, quite simply, wanted to hear more of his music," he said.
In the learning and participation category, Proper Job Theatre Company and Scunthorpe Co-operative Junior Choir took the top prize for its outdoor community opera, Cycle Song (with music by Tim Sutton and libretto by Ian McMillan).
With a cast of 1200, Cycle Song, inspired by the life of a local Olympic cyclist, was described by the RPS jury as an "inspirational and educational adventure".
Other winners included Gerald Barry's opera version of Oscar Wilde's The Importance of Being Earnest, which took the large-scale composition award ahead of its UK stage premiere in June.
The society's event honours musicians, composers, writers and arts organisations and organisers say the awards are "the highest recognition for live classical music in the UK".
Hosted by BBC Radio 3's Sara Mohr-Pietsch and Sean Rafferty, a special programme devoted to the award will be broadcast on Radio 3 on 19 May.