Great Gatsby fails to topple Iron Man 3 at US box office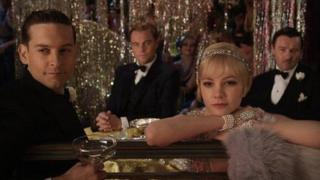 The Great Gatsby was unable to halt the reign of comic book blockbuster Iron Man 3 at this weekend's US box office.
Baz Luhrmann's 3D adaptation of the F Scott Fitzgerald classic debuted at two with $51m (£33m), according to early studio estimates.
Despite a 58% drop in takings, Robert Downey Jr's sequel took $72.5m (£47m) in its second week to stay atop.
The weekend's other new release, Tyler Perry comedy Peeples, opened at four with $4.9m (£3.2m).
Iron Man 3's total earnings have now reached $284.9m (£185.4m) after 10 days on release in North American cinemas.
Worldwide takings for the film, which also stars Gwyneth Paltrow, stands at $949m (£617m), outstripping the franchise's previous best of $624m (£406m) worldwide for Iron Man 2.
Paul Dergarabedian, an analyst for box-office tracker Hollywood.com said the film was on a path "like no other individual superhero movie we've ever seen".
"In less than three weeks, this thing is honing in on a billion dollars. It's just a testament to the incredible popularity of this character."
Despite coming in second, The Great Gatsby put in a strong performance, far exceeding expectations by distributor Warner Bros of a $35m-$40m (£23m-£26m) opening weekend.
Starring DiCaprio as 1920s mystery millionaire Jay Gatsby, the latest Fitzgerald update co-stars Carey Mulligan as his lost love and Tobey Maguire as the friend chronicling their doomed romance.
According to Warner Bros, viewers aged over 25 made up 69% of the film's audience.
Dan Fellman, the studio's head of distribution said: "It answers the question that you and I hear all the time from people over 50 - 'There's nothing for me to see'.
"While every studio has the $200m tentpoles in the marketplace, you still have those who feel that it's not directed at them, which is true. So that's why I think counterprogramming like this is very important," he added.
Gatsby was the best debut performance for film-maker Luhrmann, whose previous best was $14.8m (£9.6m) for Australia.
In just one weekend, the film came close to matching the $57.4m (£37.3m) total US earnings Luhrmann's top-grossing film, the musical Moulin Rouge!, managed in its entire run.