Alan Cumming shortlisted for Scottish Critics' award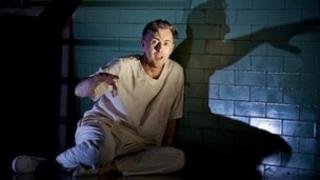 X-Men star Alan Cumming has been shortlisted for his solo performance in Macbeth at this year's Critics' Awards for Theatre in Scotland (CATS).
Cumming plays all the significant roles in the Shakespeare tragedy, which is currently running on Broadway
The National Theatre of Scotland and Edinburgh's Royal Lyceum both picked up eight nominations in the annual awards.
The highest number of nominations for a single show went to Rob Drummond's Quiz Show, at the Traverse, with four.
"With more than 20 companies represented on our nominations list - and work performed everywhere from Brae in Shetland to Hawick in the Borders - we are delighted to be able to reflect the astonishing diversity and range of Scotland's theatre scene," said judge Joyce McMillan.
Newcomers
Conor McPherson's 2006 West End and Broadway hit, The Seafarer, at the Perth Theatre received three nominations along with Krapps Last Tape and Footfalls, at Glasgow's Citizens theatre.
Newcomers featured among this year's nominations list include the Gilded Balloon in Edinburgh for Grant O'Rourke in The Agony and Ecstasy of Steve Jobs, while Random Accomplice in Glasgow received a nod for children's touring production The Incredible Adventures of See Thru Sam.
The new Borders-based Firebrand Theatre Company company also received its first nomination, with Blyth Duff in the running for best female performance for her role in the company's revival of Iron.
"Almost half of our 2013 nominations involve brand new work created by Scottish-based theatre artists over the last year, and that is a tremendous tribute to the vitality of Scotland's theatre scene, and to its terrific future potential," said McMillan.
Around 180 pieces of new professional work produced in Scotland in the 12 months to 1 May were considered for the awards. The winners will be announced at Edinburgh's Traverse Theatre on 9 June.