The IT Crowd to return for special one-off episode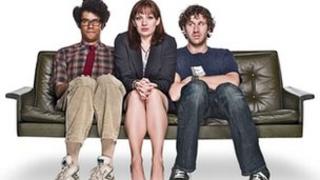 Bafta-winning comedy The IT Crowd is to return to Channel 4 for a one-off special, it has been confirmed.
The cult British sitcom ran between 2006 and 2010 and starred Chris O'Dowd, Richard Ayoade, Katherine Parkinson and Matt Berry.
Graham Linehan, the show's creator, tweeted on Wednesday that reports of the 40-minute finale were "true".
Channel 4 said the finale would screen later in the year.
"Only the power of Graham's magical writing could bring back together four of the UK's brightest comedy stars," said Nerys Evans, deputy head of comedy.
Rumours of a fifth season have circulated ever since the sitcom, which followed the nerdy staff in the IT department at the fictional Reynholm Industries, ended three years ago.
O'Dowd, who went on to star in hit film Bridemaids and US series Girls, previously expressed his interest in a reunion, saying the characters needed "closure".
Linehan tweeted in 2012 that he had written a script but was waiting to finish his BBC Two sitcom Count Arthur Strong.
He fuelled rumours again in December when he replied to a fan saying he "hoped to do a special in the middle of next year".
Shooting for the series finale is expected to begin in a few weeks.