Steve Martland dies aged 53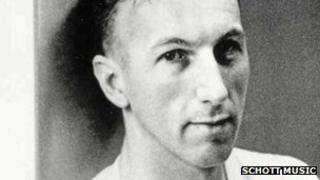 British composer Steve Martland has died at the age of 53, his publisher Schott Music has announced.
He was known for pieces including 1983 orchestral work Babi Yar, premiered at the same time in the US and the UK - by the St Louis Symphony and the Royal Liverpool Philharmonic Orchestra.
It was later recorded for Manchester's Factory Records.
Liverpool-born Martland studied composition under leading Dutch composer Louis Andriessen in the Hague.
"We are very sad to announce that Steve Martland, one of the outstanding voices in British music since the mid-80s, died in his sleep on the night of 6 May," his publisher said in a statement.
It said his "lifetime preoccupation was with the function of the composer in society".
"Steve was a unique figure, an independent, questioning spirit who inspired a generation of younger musicians - composers, players, promoters," it added.
'Pioneering school'
The composer's music, described by Schott as "often amplified, muscular and powerfully rhythmic", has been extensively choreographed in productions including Drill, for the Sydney Opera House, Crossing the Border, for the Dutch National Ballet, and Danceworks, which was premiered by the London Contemporary Dance Theatre.
His publisher said he rejected "academic dogma in favour of plurality of musical influences, both ancient and modern, serious and vernacular" and had frequently worked with artists "outside classical institutions".
He collaborated with the band Spiritualized, in 1998, for Edinburgh's Flux Festival.
In 2006 and 2007, he was composer in residence at the Etna Music Festival, in Sicily.
And in 2008, he wrote Starry Night for percussion and strong quartet for the Tromp music festival in Eindhoven, the Netherlands.
Choral works include Street Songs, written for King's Singers and percussionist Evelyn Glennie.
The composer, whose own Steve Martland Band tours his music internationally, also wrote Tyger Tyger, for charity Youth Music's Sing Up campaign.
His scores for TV include Granada children's show Wilderness Edge and he wrote and co-directed A Temporary Arrangement with the Sea, a film about his mentor, Andriessen, which was shown on BBC TV.
Schott said in its statement he also ran his own "pioneering" summer school, Strike Out, for budding composers still at school.