Paul McCartney sings unperformed Beatles tracks on tour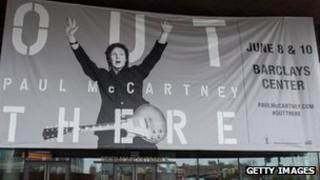 Sir Paul McCartney gave his first ever live rendition of a selection of classic Beatles tracks at the opening night of his world tour in Brazil.
The singer performed tracks such as Your Mother Should Know and Lovely Rita on the first night of his Out There tour in the city of Belo Horizonte.
Many later Beatles tracks were never performed live, after the band called an end to touring in 1966.
The Out There tour will include the US, Canada, Italy, Austria and Poland.
Sir Paul will play three concerts in Brazil this week - before continuing to Florida in the US in the middle of May.
Saturday's gig also saw Beatles' tracks Being For The Benefit Of Mr Kite and All Together Now given their first live rendition.
Sir Paul sang Eight Days A Week live for only the second time. The Beatles played it just once in 1965.
The show, attended by 55,000 fans, saw the veteran star performing solo acoustic versions of Blackbird and Here Today on a platform some 20ft above the stage.