Mariinsky Theatre unveils new ballet and opera house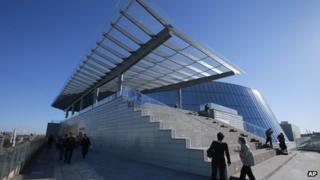 Russia's famous Mariinsky Theatre in Saint Petersburg has opened a new ballet and opera house with a gala ceremony attended by 2,000 guests.
The new building sits beside the historic 19th-Century Mariinsky Theatre, the birthplace of ballets such as Tchaikovsky's Sleeping Beauty.
At $700m (£450.5m), it has divided opinion, with some criticising the modernist architecture and cost.
President Vladimir Putin said it had "everything you need for a theatre".
Addressing guests, Mr Putin paid tribute to the "boundless energy" of the theatre's ambitious director Valery Gergiev, whose 60th birthday coincided with the opening night.
The director "has succeeded not only in preserving the traditions of the Russian opera and ballet but has also created the conditions for them to develop," he said, adding: "We need to breathe life into the theatre.
Expensive project
"We want it to live, so that people are attracted and can feel the charm of modern technology. Then it will shine in all its glory."
The 80,000 sq ft glass and limestone building, which ranks among the most expensive cultural projects ever built, was completed by Canadian firm Diamond and Schmitt Associates.
It is the centrepiece of Gergiev's vision of making Saint Petersburg an international capital for music, which has already seen the creation of a new Mariinsky concert hall nearby.
But the building has been criticised by some prominent cultural figures like Hermitage director Mikhail Piotrovsky and film-maker Alexander Sokurov, while others have dubbed it the Mariinsky Mall, not in keeping among the other 19th-Century buildings in the city.
But Gergiev, currently also chief conductor of the London Symphony Orchestra, asked doubters to reserve judgement.
"The answer to why we built [this] will be apparent when you enter the theatre," he told a journalists at a press viewing of the space.
He said he picked the architects because they had just completed the opera house in Toronto.
"We never had a space with such outstanding acoustics [in Russia]. I think that now we have one of the best modern opera theatres in the world," he added.
Gergiev conducted at the opening, which included performances from Spanish tenor Placido Domingo, who sang Wagner, and the supreme Russian ballerina of modern times, Ulyana Lopatkina, who performed to Tchaikovsky.
The event kicks off a series of lavish events later in the week.