Spice Girls musical Viva Forever! to close in June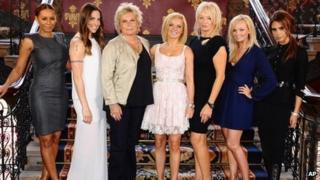 Spice Girls musical Viva Forever! is to close at the end of June, producer Judy Craymer has confirmed.
"We just can't make it work," admitted Craymer, who previously staged the hit Abba musical Mamma Mia!
The production, which was written by Jennifer Saunders, suffered poor ticket sales after damning reviews..
In a statement, the Spice Girls said they were "thrilled that the thousands of people who came to the show had as much fun as we did".
Individual members of the chart-topping group have since expressed their disappointment about the news, with Emma Bunton tweeting she was "totally gutted".
Melanie C, who is currently starring in a touring production of Jesus Christ Superstar, echoed those sentiments, saying she was "absolutely devastated" by the news.
The West End musical, which tells the story of a girl band who pursue stardom on a reality TV series, will close at London's Piccadilly Theatre on 29 June.
The musical opened in December with more than £4 million in advance sales, and had been accepting bookings up to February 2014.
"It is with a heavy heart that we've had to make this very difficult decision to post closing notices," said Craymer.
"Viva Forever! may be taking its leave for now in the West End, but the legacy of Spice Girls will never fade."
Cast members were reportedly told after Wednesday night's performance and took to Twitter themselves to share their disappointment.
Anthony Topham, who plays the role of Lance, tweeted: "My show catchphrase could never be truer. 'What a shocker!'"
"That's the way it goes - can't win them all!" Ben Cura, who plays Angel in the musical, wrote on his Twitter feed.