BBC vows to tackle bullying at work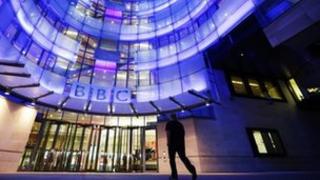 An "uncomfortable" report on behaviour at the BBC has found incidents of sexual harassment are rare, but says bullying is much more prominent.
In its Respect At Work review, the BBC said it will overhaul its policies and remove contractual gagging clauses to make it easier for staff to speak out.
The report, set up in the wake of the Savile scandal, includes feedback from current and former staff, and unions.
BBC director general Tony Hall said he wanted "zero tolerance of bullying".
The report, which focused on 2005-2012, suggested there was "a strong undercurrent of fear" at the BBC when addressing issues of bullying.
"Parts of this report... make uncomfortable reading," wrote Lord Hall, in his response to the review.
"We need to be honest about our shortcomings and single-minded in addressing them."
"I want... a culture where people feel able to raise concerns and have the confidence that they will be dealt with appropriately.
"I also want people to be able to speak freely about their experiences of working at the BBC so that we can learn from them," he added.
Lucy Adams, director of BBC Human Resources, said the review took an "unflinching look at the culture that exists inside the BBC today", adding that bullying was clearly "an issue".
More than 900 people came forward to share their experiences of the BBC.
Of the 500 interviewed, more than two thirds said they had witnessed or encountered bullying in the corporation.
"Throughout our conversations we heard a strong undercurrent of fear; fear of speaking out, fear of reprisal, fear of losing your job, being made redundant, fear of becoming a victim, fear of getting a reputation as a troublemaker and not getting promoted if an employee, or further work if a freelancer, supplier or contractor," the report found.
'Untouchable'
The 80-page report, by barrister Dinah Rose, found some behaviour appeared to go unchallenged by senior managers, with certain individuals "seen as being 'untouchable' due to their perceived value to the BBC".
With this in mind, the BBC has said it will remove derogatory statement restrictions - the "gagging orders" common in many jobs - from future BBC contracts and compromise agreements.
A gagging order prevents an individual from speaking publicly about issues in the workplace, and is widely viewed as a means of protecting talent or senior personnel.
"There is a perception that 'talent' are treated differently and don't have to adhere to the same rules because they wield power over the organisation and anyone who tries to manage them," the report found.
"In many cases, the BBC does not directly employ them and so people are quite unsure about what interventions are possible."
In response to the findings, the BBC have agreed to implement a number of changes in consultation with staff and the unions.
Bullying and harassment policy will be reworked, with an emphasis on resolving issues informally;
The policy will be extended so it is clear the general principles apply to all those who work for the BBC or on its premises, or who participate in its programmes;
A confidential helpline will be set up to support staff;
Complaints will be heard by a manager and an HR person from outside the division to ensure impartiality;
Complaints will aim to be resolved within 30 days, with all parties made aware of the outcome;
The BBC will train a number of expert mediators from within the HR team and improve senior management training.
"It is quite clear that bullying has become an institutionalised problem at the BBC, one that has taken hold over many years," said Michelle Stanistreet, general secretary for the NUJ.
"That the BBC is now taking action and getting a grip of what is a toxic problem can only be a good thing.
"We will work with the BBC to monitor and review all the changes. It's vital that this is a genuine fresh start, one that marks the dismantling of a culture that has allowed bullying and harassment to take hold."
The Respect At Work review was set up after the Jimmy Savile scandal erupted last year. Its initial remit was to look specifically at BBC policies relating to sexual harassment, though that remit was subsequently broadened.
The report found there had been 37 formal complaints of sexual harassment over the past six years - an average of six per year - out of a workforce of approximately 22,000 staff and 60,000 freelancers.
"The report finds that thankfully incidents of sexual harassment at the BBC today are rare. However we shouldn't be complacent as just one case, is one too many," wrote Lord Hall.
"Our staff are our greatest strength and this report shows that they are proud to work for the BBC and that we have a culture based on values that are strongly held."