Iron Man 3 flies to the top of the UK box office chart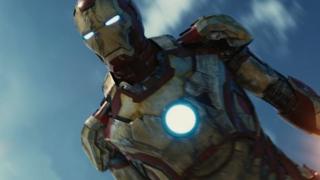 Comic book film Iron Man 3, the latest instalment in the Marvel superhero series, has stormed to the top of the UK and Ireland box office chart.
Starring Robert Downey Jr and Gwyneth Paltrow, the action sequel made £13.7m in its first five days in cinemas.
The film had the biggest opening of the year so far, beating Les Miserables' £8.1m debut in January.
But Iron Man 3 did not top its Marvel predecessor Avengers Assemble, which took £15.8m in its first weekend.
Directed by Shane Black, Iron Man 3 opens in the US and Canada on Friday.
The arrival of the film in British cinemas knocked Gerard Butler's action thriller Olympus Has Fallen off the top spot.
Tom Cruise's sci-fi thriller Oblivion moved down to three, having now taken £9.5m in three weeks.
Caveman animation The Croods, which has now made £24.5m since its release on 22 March, held steady at four, while horror remake Evil Dead fell to five
The Look of Love, in which Steve Coogan stars as porn baron Paul Raymond, debuts in the chart at seven with takings of £208,557.
Iron Man 3 had a stellar weekend internationally, taking $195.3m (£125.7m) in 42 markets.