Michael Fassbender 'attached' to Macbeth film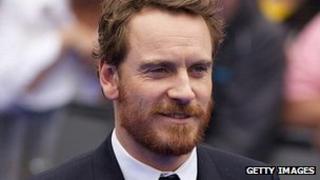 Prometheus star Michael Fassbender is to appear in a "visceral" new film adaptation of Shakespeare's Macbeth, according to trade paper Screen Daily.
The actor will play the doomed Scottish general from the classic tragedy, while Oscar-winner Natalie Portman will co-star as the ambitious Lady Macbeth.
Australia's Justin Kurzel is to direct the film, to be produced by The King's Speech and Shame producers See Saw.
It is expected to start shooting later this year.
Fassbender is currently filming X-Men: Days of Future Past.
The film is a sequel to X-Men: First Class and sees him reprise the role of Magneto, played by Sir Ian McKellen in previous X-Men movies.
His other forthcoming films include the historical drama Twelve Years a Slave, directed by Steve McQueen, and a film based on the life of the late cult comedian and singer Frank Sidebottom.
Portman recently worked with Fassbender on Terrence Malick's as yet untitled new film about the Texas music scene.
The 31-year-old won an Oscar for her role in 2010's Black Swan and will be seen later this year in comic book sequel Thor: The Dark World.
According to reports, the Macbeth script - the work of Todd Louiso and Jacob Koskoff - is "a visceral approach to the story" that includes "significant" battle scenes".
Other cinematic versions include Roman Polanski's 1971 film and Orson Welles's much maligned attempt in 1948.
James McAvoy recently played Macbeth in London's West End, while fellow Scot Alan Cumming is appearing in a one-man version of the play on Broadway.
Sir Kenneth Branagh and Alex Kingston are to co-star in another production of the play, to be staged as part of the Manchester International Festival in July.