Woman in Black sequel casts Jeremy Irvine as lead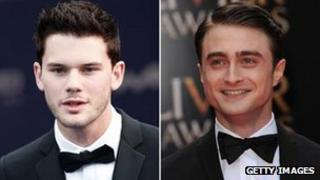 War Horse actor Jeremy Irvine will play one of the leads in Angel of Death, Hammer's sequel to The Woman in Black.
British actress Phoebe Fox will appear alongside him in the follow-up to the 2012 film, which starred Daniel Radcliffe and was a UK box office hit.
Set four decades later, the sequel will see the haunted Eel Marsh House used by the government to shelter a group of evacuated children during World War II.
Director Tom Harper said Irvine and Fox were "fantastic actors".
"I'm looking forward to working with them both on the film and can't wait to start shooting," said the man behind 2009 British title The Scouting Book for Boys.
Irvine played farmer turned soldier Albert in Steven Spielberg's War Horse movie and Pip in the 2012 film version of Charles Dickens's Great Expectations.
He will next be seen in The Railway Man as Eric Lomax, a prisoner of war who worked on the so-called "death railway" the Japanese built in Thailand during World War II.
Named one of Screen Daily's Stars of Tomorrow in 2011, Fox has been seen in Channel 4 satire Black Mirror and ITV2 drama Switch.