Olivia Colman and Sheridan Smith are love rivals in new drama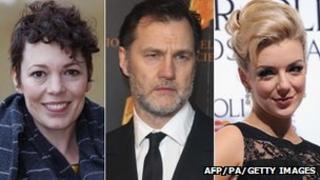 Sheridan Smith and Olivia Colman are to play rivals for the affections of David Morrissey in a new BBC One drama.
Broadchurch star Colman will play the wife of Morrissey's character in The 7.39, a two-part romantic drama written by One Day author David Nicholls.
Olivier awards co-host Smith will play a commuter with whom Morrissey, of The Walking Dead fame, begins an affair.
BBC One has also confirmed a second series of its Sunday night rural drama The Village will air next year.
Writer Peter Moffat said he was "thrilled" to have the opportunity to continue telling the story of one English village across the whole of the 20th Century.
His sentiments were echoed by Starter For Ten author Nicholls, who said he was "delighted to be writing for the BBC again".
Nicholls previously adapted Much Ado About Nothing for the BBC's 2005 ShakespeaRe-Told season and, in 2008, adapted Thomas Hardy's Tess of the D'Urbervilles.
The 7.39, he went on, was "a love story for grown-ups" and "the sort of drama that has not been seen on television for a while".
Colman was recently named best actress for her work on the BBC courtroom drama Accused at the Royal Television Society awards, and is Bafta-nominated for the same role for best supporting actress.
Smith is also in the running at the Baftas for leading actress for Mrs Biggs.
The 7.39 - described as "brilliantly British" by BBC drama controller Ben Stephenson - is one of a raft of new commissions announced by the corporation's flagship channel.
Last week, BBC One revealed it was working on an adaptation of David Walliams' children's book Gangsta Granny, to air later this year.
The comedy drama, which the Little Britain star will co-write, tells of a schoolboy who discovers his grandmother was once an international jewel thief.
Walliams, whose novel Mr Stink was dramatised by the BBC last year, said the 60-minute film "should make for exciting family viewing at Christmas".