Bafta honour for Olympic programmes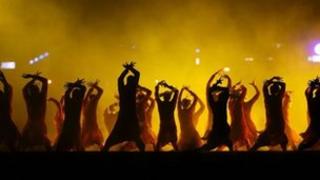 The London 2012 Olympic Games have taken three awards at this year's British Academy of Film and Television Arts Craft Awards.
The Olympics opening ceremony picked up a best director award while Super Saturday - when team GB scooped six gold medals - won for best sound.
The Paralympics, broadcast on Channel Four, took best digital creativity.
BBC One period drama Call the Midwife won two awards while double honours also went to The Hollow Crown series.
The Shakespearean adaptations were produced by Sam Mendes for BBC Two.
The man who directed the TV broadcasts of the London 2012 opening and closing ceremonies, Hamish Hamilton was also honoured on the night with a special award in recognition of his "outstanding creative contribution to the industry and his extensive work and accomplishments in his field".
U2's Bono, Beyonce, Usher and Robbie Williams, were among those who shared stories and offered their congratulations to Hamish during a tribute package shown at the event in the City of London on Sunday night.
Another BBC One period drama, Parade's End, which received a total of five nominations walked away with one award for best costume design.
Despite receiving two nominations each, Doctor Who, Top Gear and The Thick of It were denied any awards.
The Girl
Other award winners included Amish: A Secret Life, a portrait of the lives of Old Order Amish couple Miriam and David and their family, broadcast on BBC Two.
It won two prizes in the factual photography and editing categories.
This year's breakthrough talent award went to Tim Whitnall, writer of Best Possible Taste: The Kenny Everett Story.
Darryl Hammer's contribution to the BBC Hitchcock biopic The Girl, starring Sienna Miller, earned her the best production design award.
There was also recognition for the epic historical drama, Titanic, with Tom Turnbull honoured in the special effects category.
For this first time, an award was given to best writer in comedy. It was won by Julia Davis for the period comedy Hunderby, in which she also starred.
The best writer in the drama category was picked up by previous BAFTA-nominee Sally Wainwright for Last Tango in Halifax.