Appeal to save Richmond's historic Georgian Theatre Royal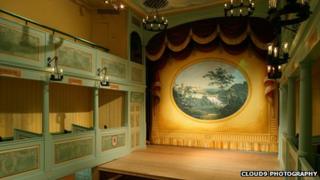 An 18th Century theatre in Yorkshire, which describes itself as the oldest theatre in its original form in Britain, is launching a fundraising campaign to save it from closure.
The Georgian Theatre Royal in Richmond opened in 1788 and has its original boxes, box office and other features.
Funding has declined as a result of the economic downturn and it may have to close, chairman Malcolm Bryant said.
"We don't want to contemplate that but that is the truth of the situation."
He said: "We're always optimistic and positive and we don't want to be negative and say the theatre's going to close.
"But the truth of the matter is that that because it can't keep going simply on ticket sales and bar sales, unless we can get the external additional support, then ultimately that's what would happen.
"But we can't afford to let that happen. It's unique."
Kicking boards
The Bristol Old Vic has the title of the oldest working theatre in the UK, having opened in 1766. But it has since had significant refits, while the auditorium of the Georgian Theatre Royal has never been remodelled.
Its original features include the kicking boards, which audiences would use to make their disapproval heard.
The Theatres Trust said of the Georgian Theatre Royal: "Nowhere else in England is the earthy immediacy of the 18th Century playhouse evoked so strongly."
The 200-seat theatre has hosted figures from Georgian star Edmund Kean to Dame Sybil Thorndike, Joyce Grenfell and Alan Bennett.
The venue, which is a Grade I listed building and also houses a 180-member youth theatre, is seeking to raise an initial £122,500 from the campaign, which launches on 1 May.