Scream film franchise to be adapted for TV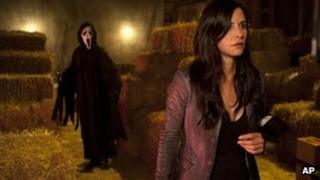 Hit film franchise Scream could be turned into a TV series, after MTV announced they had signed off on a one-hour pilot.
Wes Craven, director of all four films in the series, is in talks to direct the pilot which will air next summer.
The first slasher film, about a masked serial killer who stalks his victims, was released in 1996 and spawned three sequels - in 1997, 2000 and 2011.
All four films starred Neve Campbell, Courteney Cox and David Arquette.
The TV series will reinvent the horror-comedy franchise - acclaimed for its deconstruction of the horror genre - which was created and written by Kevin Williamson.
The first film was widely credited with reinventing the horror movie in the 1990s.
According to box office tracker, Boxofficemojo.com, the four films have taken more than $600m (£388.7m) worldwide, with the original 1996 film reported to be the highest grossing slasher film in the US.
Scream has joined Teen Wolf, another TV series commissioned by MTV off the back of a cult film, which is now up to its third series.