Tribeca honours Australian film The Rocket with top prize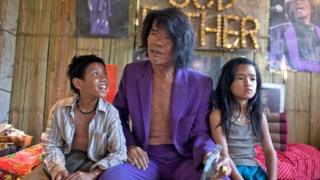 Australian feature film The Rocket has taken the top honour at this year's Tribeca Film Festival in New York.
Set in Laos with mostly non-professional actors, it won best narrative film while its 10-year-old star was selected as best actor.
Best documentary went to Dan Krauss's The Kill Team, about a group of US soldiers charged with killing Afghan civilians.
The 12th annual festival, co-founded by Robert De Niro, ends on Sunday.
The young star of The Rocket, Sitthiphon Disamoe, stars as Aholo - a boy who enters a traditional rocket festival to help save his poverty-stricken family who have been uprooted for the construction of a dam.
Jurors said the film, which picked up the best first feature award at the Berlin International Film Festival in February, "offers us a transcendent tale of hope and perseverance in a world that few Westerners ever have the chance to see".
Nora Ephron award
Accepting award from Tribeca co-founders Robert De Niro and Jane Rosenthal, Kim Mourdant said: "This award is really going to help this film ... and bring attention to the developing world, and our relationship to the developing world."
The festival awarded the inaugural Nora Ephron prize, its first award for female filmmakers, to writer-director Meera Menon.
She won for her first film, Farah Goes Bang, the tale of friends who make a road trip to campaign for John Kerry during the 2004 presidential election.
Other award winners included Veerle Baetens, who won best actress for the Dutch/Belgian film The Broken Circle Breakdown in which she plays a free spirit who becomes a grieving wife and mother in what the jury called "a tour de force performance".
The film also won the best screenplay award for Carl Joos and Felix van Groeningen.
New director awards went to Canada's Emanuel Hoss-Desmarais for his dark comedy, Whitewash about a man trying to survive a harsh Canadian winter, and American Sean Dunne for Oxyana, set in a rural coal mining town riddled with an addiction to pain relief medication.
Coach, which was executive-produced by Whoopi Goldberg, took the best short documentary prize while Italy's The Nightshift Belongs to the Stars won best narrative.